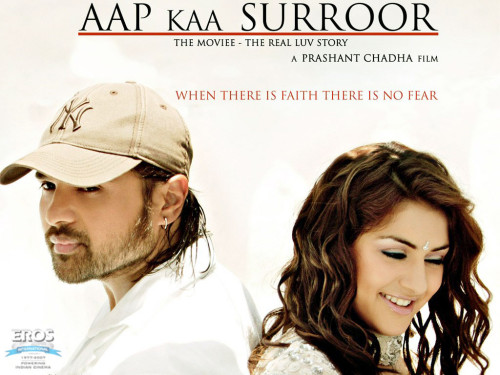 Himesh Reshammiya steps his feet into acting with this Bollywood movie. His courage and confidence has been the main reason for the victory of the movie whose story line is not like the usual ones we see daily. Himesh plays the role of a musician in the movie. He falls in love with his event planner, approved by her father too. But things take the thriller edge in the movie when a journalist is killed and Himesh is arrested for the crime. Mallika Sherawat also loves Himesh and does not try to bail him. He escapes from prison to find the true murderer and he has only one day to save his love from getting married to another guy.
Aap Kaa Surroor Music Review
With Himesh on the music, and as the actor, the movie sure does have all the good qualities of a great music album. The first song of the album 'Assalam Vaalekum' will get you tapping your feet and wanting for more. This is a Himesh trademark song and is picturized as a stage song where he sings praising his love. The song has a sufi touch to all through. You can listen to two different version of the song in the album. The remix version has the same lyrics running on a different background music while the 'dark mix' is for those Himesh fans who look out for a dance floor masti number from him at songs.pk. 'Jhooth Nah Bolna' is the best track of the album which is a romantic song with tabla and gungroo beats all through giving the true Indian feel to the song. 'Tanhaiyan' is a good melody track with all the rhythm and feel making you sing along over and over again.