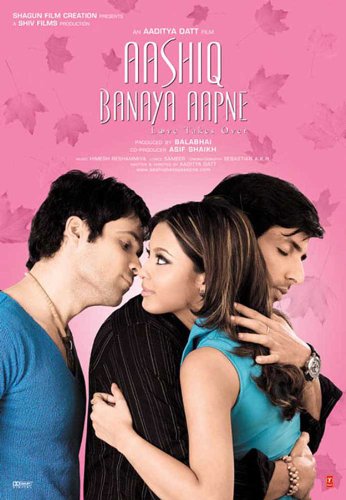 The trend of the movies this season is all about urban modern stories with all that cool-cool attitude. Aashiq Banaya Aapne is yet another urban Bollywood movie with the hot and rocking Emran Hashmi in the lead role. Sonu Sood (Karan) is a simple college guy who is an introvert and doesn't express his love for Tanushree Dutta (Sneha), even though he loves her deeply. They are later joined by Karan's friend, Vicky played by Emran. Emran is a born flirt and eventually falls in love with him. Sensing the turn of events, Karan confronts Vicky and tells him not to get close with Sneha, but Vicky already was in love with Sneha. The couple is deeply in love when something astounding happens and Sneha gets to Karan for support. Karan proposes Sneha and they engaged. Vicky re-enters their life giving more thrill to the story.
More Info
Directed by Aaditya Datt
Starring Emraan Hashmi
Tanushree Dutta
Songs by Himesh Reshammiya
Language Hindi
About Music:
With all the hit songs of Emran Hashmi, Ashiw Banaya Aapne songs are also a great addition at songs.pk, even though the movie didn't fare well at the box office. With about 6 songs crooned by Himesh Reshammiya, this music album is of and for Himesh and has his trademark stamp all over. The title track 'Aashiq Banaya Aapne' is a melodious track complimented by Sameer's heart rendering lyrics which will surely find its way down your heart. The song, as most other Himesh songs has the sufi element which makes it all the more better and soothing to the ears. The remix version of the song by Akbar Sami is a must download from songs.pk with its trendy and fast pace music. The shrils and thumps have been added in adequately to make the remix better than the original. Indian Idol Abhijeet Sawant marks his payback debut with the song 'Marjawa Mitjawa'. This song will make you tap your feet and shoulders sync along with the music.