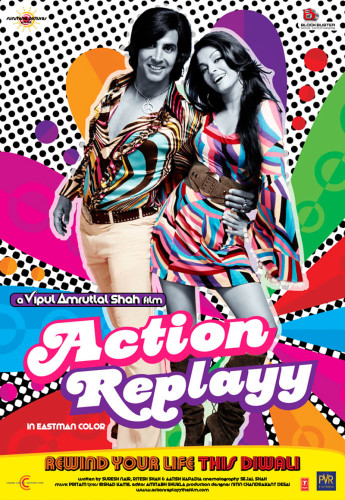 Vipul Shah, popular director who directed the love story Namastey London is back with another romantic movie Action Replayy. Action replayy is Romance 70's style starring Akshay Kumar and Aishwarya Rai Bachan as main lead roles. Action replay songs are directed by Pritam who recently composed the popular music of Crook. Other star cast includes Randhir Kapoor, Neha Dhupia, Kiron Kher, Om Puri etc. The film is releasing in the cinemas on 5th of Nov borught to us by Vipul Shah. Songs of Action replayy are available as of 8th Oct in MP3 and Audio CD. The lyrics to these songs are given by . Check out the list of all Action Replayy songs below with the singers name.
Watch the first theatric trailer of the movie Action Replay below.

You can also watch the video at Youtube.
01. Zor Ka Jhatka – Daler Mehndi & Richa Sharma
02. O Bekhabar – Shreya Ghoshal
03. Nakhre – Francois Castellino
04. Chhan Ke Mohalla – Sunidhi Chauhan & Ritu Pathak
05. Tera Mera Pyaar – Karthik, Mahalaxmi Iyer & Antara Mitra
06. Dhak Dhak Dhak – Mika
07. Luk Chup Jaana – Tulsi Kumar & KK
08. I Am Dog Gone Crazy – Suraj Jagan
09. Baki Main Bhool Gayi – Shreya Ghoshal
10. Zor Ka Jhatka (Remix) – Master Saleem & Richa Sharma
11. Chhan Ke Mohalla (Remix) – Sunidhi Chauhan & Ritu Pathak
12. Tera Mera Pyaar (Remix) – Karthik & Antara Mitra
13. Nakhre (Remix) – Francois Castellino
You can get all songs of Action Replay at- http://www.in.com/music/action-replayy/songs-76625.html
Note- The site will not give you option to download the songs for free. But you can listen to them for free online at very high quality.
O Bekhabar is a popular song from Action Replay film. This song has been sung by Shreya Ghoshal and music has been given by Pritam. Watch the full Video Song in Full HD below.

If you have slow connection then use HQ instead of HD. Video Source- Youtube
Zor Ka Jathka is topping the music rankings these days. It is awesome song directed by Pritam and sung by Daler Mehndi and Richa Sharma. It is at no 2 in top 10 songs at the time of this post. The song is full on of Music, Fun and entertainment. Check out the video song below (in full HD).

Video Source- Youtube