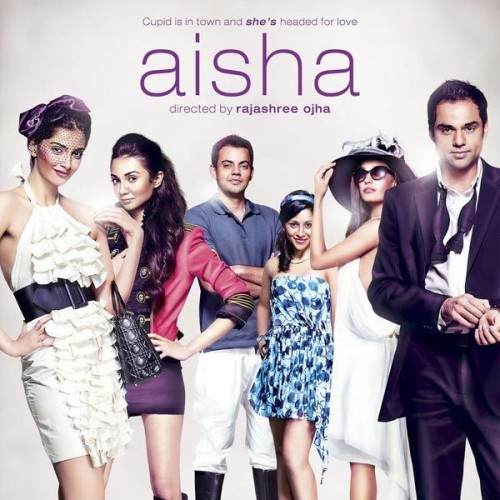 Aisha is an upcoming Bollywood Movie starring Anil Kapoor's daughter Sonam Kapoor in the main lead role. Sonam was last seen in I Hate Luv Storys with Imraan Khan which was a romantic movie. Aisha is a Comedy + Romance so you can have fun and enjoy the movie. Sonam will be accompanied by Abhay Deol who did a fantastic role in Dev D and many other co stars. Songs of Aisha are directed by Amit Trivedi and music album has already released. Film is expected to release on 6th August 2010. Lyrics to Aisha songs are given by Javed Akhtar. The list of the songs with their playing time and singers has been given below.
1. (00:04:24) Amit Trivedi, Nakash Aziz & Ash King – Suno Aisha
2. (00:04:18) Tochi Raina – Gal Mitthi Mitthi
3. (00:04:47) Nikhil D'Souza, Amit Trivedi & Neuman Pinto – Shaam
4. (00:03:46) Anushka Manchanda, Samrat Kaushal, Raman Mahadevan, Robert Omulo & Suman Sridhar – Behke Behke
5. (00:04:52) Anusha Mani, Neuman Pinto & Nikhil D'Souza – Lehrein
6. (00:03:34) Anushka Manchanda & Neuman Pinto – By The Way
7. (00:04:04) Tochi Raina – Gal Mitthi Mitthi (The Bombay Bounce Dhol Mix)
8. (00:04:45) Anusha Mani, Neuman Pinto & Nikhil D'Souza – Lehrein Remix (The Bombay Bounce Lounge Mix)
The title song- Suno Aisha received a good response when other music didn't really rock!!
Lehrein song from Aisha is a beautiful song. With awesome background music, and nice singing it is the perfect song for the situation. Its sad and yet addicting song.