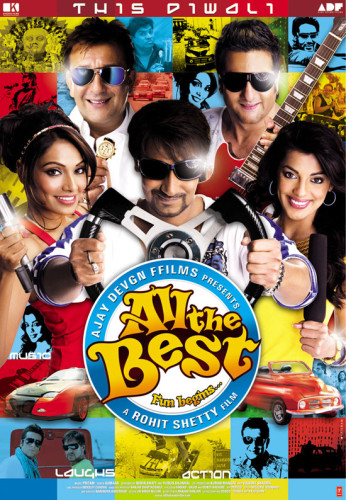 All The Best – Fun Begins is an upcoming comedy Bollywood movie releasing on 16 October 2009. The movie has been directed by Rohit Shetty under the banner of Devgan Entertainment (Producer- Ajay Devgan). The movie stars Ajay Devgn, Sanjay Dutt, Fardeen Khan, Mughda and Bipasha Basu as the main leads. The music and songs of the movie has been given by Pritam.
Plot- All the best is an extreme comedy resulting from hilarious goof ups and mistaken identities.
All the Best Trailer
All The Best Music Album
All the best music album is directed by Pritam and lyrics for the songs in this movie are given by Kumaar. There are seven songs in this movie of which two are remixes. The songs are available on Audio CD's and MP3. The singers of the songs are given with the list of songs with the name of respective singer.
List of Songs of All the Best-
01 – Dil Kare – Suraj Jagan & Roopam Islam
02 – Haan Main Jitni Martaba – KK & Yashita
03 – All The Best – Rana, Soham & Antara
04 – Kyon – Clinton Cerejo
05 – You Are My Love – Kunal Ganjawala, Neeraj Sridhar, Rajesh, Alisha Chinoy & Megha
06 – Haan Main Jitni Martaba (Remix) – KK & Yashita
07 – Dil Kare (Remix) – Suraj Jagan & Roopam Islam