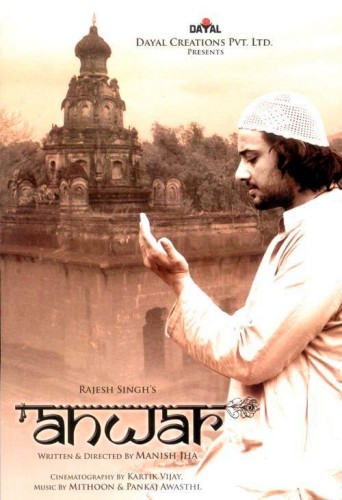 Anwar is based on the book "Falgun Ki Ek Upkatha' by Priamvad. The movie tells the story of different people played by different actors and each character's personal life beautifully depicted. It exposes the truth of several kinds of people living around us. The movie narrates 7 different stories, but these many stories and sub stories has made the story line clumsy. Aimed to be a moral movie, this Bollywood film failed to make the impression on the mind of its viewers by not staying on the track with the story of the main character, Anwar. At the end of the movie, you will be left pondering over the actual story line. Same is not the case with Anwar Songs as they were a hit (see below).
Anwar Movie Facts
Directed by Manish Jha
Starring Manisha Koirala, Siddharth Koirala, Nauheed Cyrusi
Produced by Rajesh Singh
Music and Songs by Pankaj Awasthi, Mithoon
Release date(s) 12 January 2007
Anwar Songs Album
The combination of Roop Kumar Rathod, Sayeed Quadri and Mithoon has worked wonders for the song 'Maula Mere' which will remain an evergreen sufi number. The song is complete in all ways. 'Dilbar Mera' is a song of pain but well composed including pop and classic filmi music. With the new comers Kshitij and Shilpa Rao, 'Tose Naina Lagey' has good lyrics and a soothing tone. One of the Anwar songs worth mentioning is 'Bangla Khula' which became much popular with the critics for its weird and too much vulgar lyrics written by Dharam Sarthi. The album also includes its remixed version with all the extra effects required by such a song, composed by Vishvjeet. Listen to it at Songs.pk. The instrumentals 'Anwar's Dream (A Symphony In Blue)' and 'Into the Black', both done by Pankaj Awasthi is very situational and suits the story line very well. 'Jo Maine Aas Lagayi' written and sung by Pankaj Awasthi is a soft track. The only one that hasn't reached to the mark is 'Mela'.
Songs List
| No | Song Name |
| --- | --- |
| 1 | Maula Mere Maula |
| 2 | Dilbar Mera |
| 3 | Javeda Zindagi (Tose Naina Lagey) |
| 4 | Bangla Khula |
| 5 | Anwar's Dream (A Symphony In Blue) |
| 6 | Jo Maine Aas Lagayi |
| 7 | Into The Black |
| 8 | Mela (Shadow Of Sunlight) |
| 9 | Bangla Khula (Dance Mix) |
Anwar Movie Review
The movie review written on BollywoodHungama.com by Taran Adarsh is present on link- Here
Maula Mere Video Song from Anwar