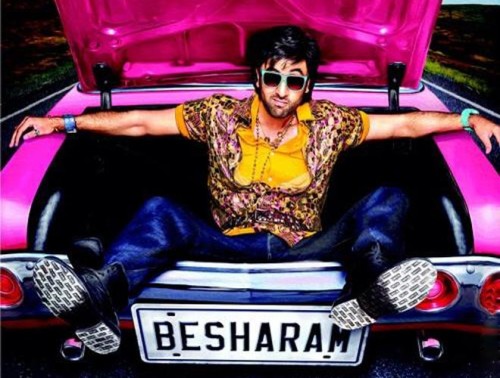 Besharam **Na sammaan ka moh, na apmaan ka bhay** is an upcoming Bollywood Movie starring Ranbir Kapoor, Pallavi Sharda, Rishi Kapoor and Neetu Kapoor.
Director: Abhinav Singh Kashyap

Originally, Besharam was movie in 1978 of Amitabh Bachan and Sharmila Tagore and was a big hit.
Story: Ranbir Kapoor is playing the role of Babli, who by profession is a car mechanic in Delhi and lives in an orphanage. He believes in living life to the fullest. He is charming, *tapori and as the title of the movie says he's Besharam (shameless). In the movie, for supporting his orphanage he steels cars and his parents Rishi kapoor and Neetu Kapoor are the playing role of cops. He loves his girlfriend Tara (played by Pallavi Sharda) and can go to on any extent to make her happy. He doesn't care for anything he does noe he cares if its wrong or right.
Shooting Place: The shooting of the movie is done in India itself.
It is a comedy film. Earlier, it was decided that Parineeti Chopra would play the lead role of Tara, but later Pallavi Sharma replaced her and Pallavi suited the role better and complete. Pallavi is not that big an actress. She actually started her career with a small role in My Name is Khan and has been seen since then in 5-6 Bollywood Movies. Ranbir on the other hand is favorite of many and has huge fan following. His role and acting in Rockstar made him extremely popular. Pallavi is expected to work really hard to come to the level of Ranbir.
Check out the trailer of the movie below. Though this is just a small trailer, it managed to create a hatred among some SRK and Salman Khan fans due to the scenes shown. A dialog of the movie insults Salman's role in Dabanng and Ranbir is even shown peeing in the fields sining a popular song from SRK's movie DDLJ.
Besharam Songs and Music: Renowned duo of  Jatin-Lalit have given the music to the film and it consists of total 6 tracks. The lyrics to the songs are written by Rajeev Barnwal, Nikhat Khan & Himanshu Kishan Mehra. The songs were originally planned to release in 2nd week of August but only one of the track got released. Now, on 26th of August all the songs have been released. The most popular song from the movie is Tu Hai, which is a romantic song sung by Shreya Ghoshal and Sonu Nigam. Check out the video song below:
If you are not into soft and romatic tracts then the title song of Besharam is for you. It has good awesome lyrics and you are gonna love it 😉
Other songs from the movie:
1. Besharam
2. Tere Mohalle
3. Love Ki Ghanti
4. Dil Kaa Jo Haal Hai
5. Tu Hai
6. Aa Re Aa Re
7. Chal Hand Uthake Nachche
There is an unplugged version of Tu Hai song also and many remixes of other songs.
The movie is releasing on 2 October 2013.
Abhinav Singh Kashyab has directed Dabbang which was a blockbuster film. Lets see would Besharam would be a blockbuster or not?