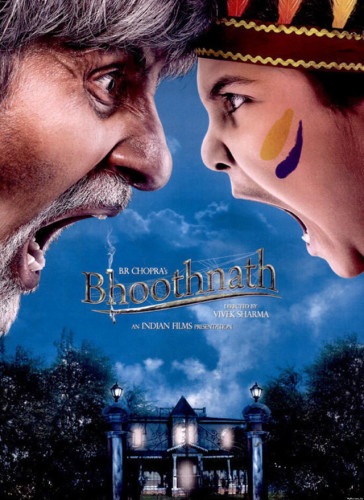 With Amitabh Bachchan on the lead role, this novel story is about the relationship between a spirit and a child with no horror. Bhoothnath has been created for the children. Banku (Aman Sidiqui) is a school boy who moves with his family into a haunted mansion in Goa. The role of the boy's parents is played by Shah Rukh Khan and Jubi Chawla. The haunted spirit of Kailash Nath who was the patriarch of the mansion, played by Amitabh Bachchan tries to scare the boy, but in vain. Eventually a friendly bonding develops between Banku and Bhoothnath. The story turns to the climax when Kailash Nath's son decides to sell the mansion.
Bhoothnath Songs Information
Being set on a different story line, some kind of difference and variety was expected from Bhoothnath songs. But the songs haven't stood up to the mark with a great crew of Vishal, Shekhar and Javed Akhtar. 'Hum Tho Hai Aandhi' has 4 kids singing for the track and is picturized well with kids dressed up as grown ups. Yourkids might like to listen to the song so you better download it from songs.pk. The folk number 'Banku Bhaiyya' is a good folk number but nothing special to be mentioned. This is the only song in the whole album which has an Indian feel in it. 'Chalo Jaane Do' was meant to a lively song with 'manana' as the theme, but the song has no real life in it as it is really slow paced and the music does not fit into the mood. 'Samay Ka Pahiya' is a sad song which tells the sorrows of Big B who is alone and has small vocal renditions by Big B himself.