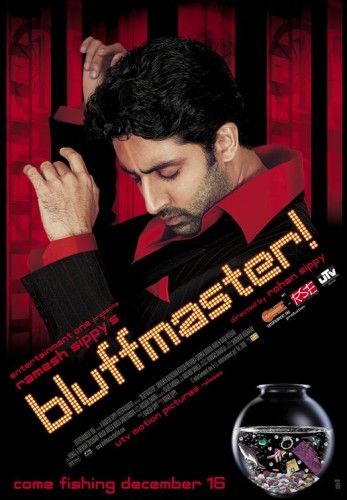 Director Rohan Sippy had a very low story track and that was the reason for the failure of BluffMaster at the box office. The story is all about swindlers and their life. The lead role of the bluff master is played by Abhishek Bachchan (Roy) who is a master of conning and he is in love with Priyanka Chopra (Simmi). He doesn't gather the courage to tell her that he is a conman. On their engagement day, she comes to know about his truth and calls off the marriage. Roy is heart broken and that's when he comes across Ritesh Deshmukh (Dittu) who comes to Abhishek to learn the act of conning. Abhishek after long hours of thinking gives in to teach him. Abhishek faints while on the road and his doctor, Boman Irani tells him that he is suffering from brain tumor. He then decides that he has a few jobs to finish before he dies and together with Ritesh plans to trap Nana Patekar. The story then takes a good turn and the climax is the least expected.
More Info
Directed by Rohan Sippy
Starring Abhishek Bachchan, Priyanka Chopra, Ritesh Deshmukh
Music by Vishal-Shekhar, Trickbaby
Distributed by SaReGaMa-HMV, Entertainment One Pvt. Ltd
Release date(s) 16 December 2005
Language Hindi
BluffMaster Songs
The album has 13 songs with 4 of them being remakes of the golden oldies. This has introduced a new concept for bollywood movie songs indeed. Even though the movie didn't fare well, the songs are a super hit and download them for free at songs.pk. The album begins with a remix version of 'Sabse Bada Rupaiyya' by Trickbaby. Small vocal additions have been added in the voice of Chetna and Saira Hussain but the original voice has been kept intact. The song sounds superb. Well, the director's decision of bringing down the UK band Trickbaby has indeed been a good decision. The next remix you will come across is of 'Tadbir Se Bigdi Hui Taqdeer'. You will be spellbound to hear this song in the groovy version and rock to it. 'Right Here Right Now' sung by Abhishek Bachchan himself is a very good original track from the movie.