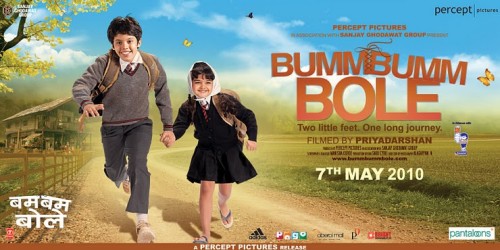 Bumm Bumm Bole is Children Drama film directed by Priyadarshan and starring the popular star Darsheel Safary who won all our hearts with his acting in the film Taare Zameen Par. Darsheel also won the Filmfare Best actor award in 2008 for his movie Taare Zameen Par. Music and songs of Bumm Bumm Bole
are directed by M.G. Sreekumar, Tapas Relia and Azaan Sami. It is Hindi remake of Children of Heavens a English film which was nominated of Academy Award for Best Foreign Language Film. Other actors which will be seen with Darsheel are Atul Kulkarni, Rituparna Sengupta and Ziyah Vastani. The movie was set to release on May 7 but now postponed to May 16 2010. The lyrics to the songs are given by Sameer. Background Sound of Bumm Bumm Bole is directed by Raja Sundaram. The music released in April 2010. The title of the movie is based on one of the songs from Taare Zamaan Par.
There are just 4 tracks in this movie. List of those songs has been given below.
01 – Bumm Bumm Bole
02 – Ashaon Ke Pankh
03 – Mann Ki Aasha
04 – Rang De