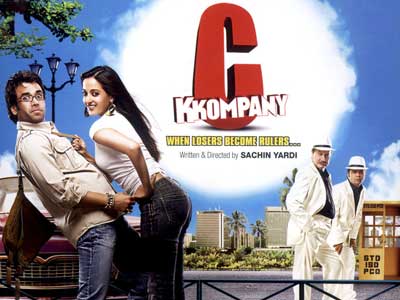 With his debut movie, Sachin Yardi has taken small inspirations from Munnabhai MBBS to build up his Bollywood movie C Kkompany. The movie stars Rajpal Yadav, Tusshar Kapoor and Anupam Kher. All three of them live in the 'C' block of an apartment and they are friends. They have their own problems, Tussar being a crime reporter, Anupamji is a retired accountant and is struggling with his ungrateful son and Rajpal has troubles with his wife. They decide to face the problems together and play a small prank which then turns a huge thing to be shown on television. Finding that they were becoming famous they continue the pranks to become the talk of the nation.
C Kkompany Music Album
The album has basically four songs which begin with a fast number 'Khoka' which will be the promotional one among C Kkompany songs. The song has fast beats with good western orchestra and talks about the power of money. The song has been composed well by Bappa Lahri which has Bappi Lahri, Rema Lahri and the rocker Mika on the vocals. The remix version, as intended is better than the original. A Punjabi song is always welcomed by the janta and so is 'Speaker Baje' which also has a racy track and follows the trend of the first song downloadable from7 songs.pk. The song is picturized with Tusshar Kapoor and the ravishing Celina Jaitley. The song also comes in a Dhol Mix which is surely gonna rock the dance floors. The title song 'C Kkompany' has Sanjay Dutt on the vocals for a funky song which introduces the three lead characters of the movie.