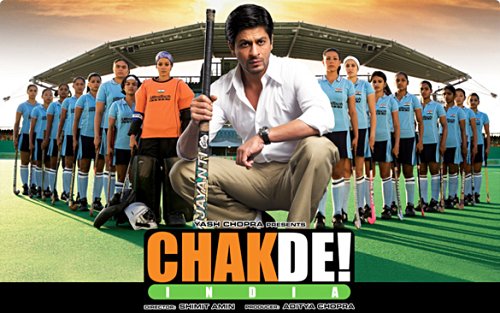 Chak De India is an unusual Shah Rukh-Yash Raj combination movie with no romance, melody romance and nothing girly about it. Recent day patriotism is being defined in an direct way in this Bollywood movie. Hockey is the national game of India but we do not usually care for it. It is to bring back the attention to Hockey that the movie venture was taken up. Shah Rukh was expelled of the Indian hockey team with charges of betting. He reappears as the coach of Indian women's hockey trying to resurrect the Indian girls hockey team which was falling. The team was just for name sake comprising to ladies who had their own ideas and full of egos. Shah Rukh (Kabir Khan) teaches this group of girls to play like a team.
Movie Information
Director : Shimit Amin
Producer : Aditya Chopra, Yash Chopra
Music and Songs : Salim Merchant, Sulaiman Merchant
Starring : Shahrukh Khan, Chak De Girls
Distributor : Yash Raj Films
Release date : August 10, 2007
Music Information
Being an unconventional movie, you can not expect much of music from this. All of the songs have nothing special in them and sure not gonna be a hit kind. The only one notable song among all Chak De India songs is the title track 'Chak De India' rendered in the full spirits by Sukhwinder Singh and can be downloaded for free at songs.pk. The song is the opening song of the album and has beautiful dhol beats which bring in the patriotic feeling of being a proud Indian. The track 'Ek Hockey Doongi Rakh Ke' is a kind of conversational song which is purely situational and has nothing special as music. The video is good to watch through where each player talks about herself and Shah Rukh too talks about them. The remix version has simply the title line in it and doesn't do any good to the song or for the wellbeing of the album as a whole.
Chak De India Video Song