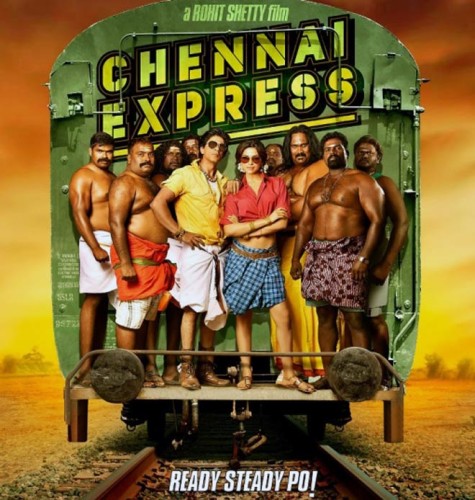 Chennai Express is an action packed Bollywood movie starring Deepika and Sharukh in main roles. It is going to release on the festival Eid on 8th of August. The movie has been directed by Rohit Shetty and produced by Gauri Khan, Ronnie Screwvala and Siddharth Roy Kapur. The music of the movie is is directed by Vishal Shekhar who are famous for rich music albums of Dostana, Bacha Ae Haseeno and more. "1 2 3 4 Get On The Dance Floor" a song from the music album of Chennai Express is being appreciated by the audience.
Director: Rohit Shetty
Producer: Gauri Khan
Music Director: Vishal Dadlani , Shekhar Ravjiani
Lyricst: Amitabh Bhattacharya
Actors:
Shahrukh Khan as Rahul
Deepika Padukone as Meena Lochni
Manorama as Meena's aunt
Sathyaraj as Meena's father
Nikitin Dheer as Tangaballi
Priyamani as Item NumberIt is a story a man's travel from Mumbai to Rameswaram and all the happenings during this journey. It is a comedy movie filled with romance. Sharukh falls in love with Deepika who is daughter of a don. People have high expectation from this movie as the previous movie of this collaboration between Sharukh and Deepika (Om Shaanti Om) was a a big hit.
But in the promos of the film people are complaining about a little over acting by the main leads. Dialogue like "Mein Chhuti mananae aaya tha aur tumne meri chhuti kardi" from Sharukh, and "kahan se khareedi aesi bakwaas dictionary" from Deepika seems overworked.
List of Songs
1. "1 2 3 4 Get On The Dance Floor"
2. "Titli"
3. "Tera Rastaa Chhodoon Na"
4. "Kashmir Main Tu Kanyakumari"
5. "Ready Steady Po"
6. "Chennai Express"
7. "Titli (Dubstep Version)"
8. "Chennai Express (Mashup)"
Update movie review:
According to sources, Chennai Express has crossed the collection records of most of the Bollywood movies, even Aamir Khan's 3 Idiots. So peolple don't underestimate power of non sense. The movie is not been liked my most of the audience and many scenes of the movie are copied from ddlj.
Titli Video Song
This is the only song worth listening in this movie. A little girly but you make like it so watch it now..