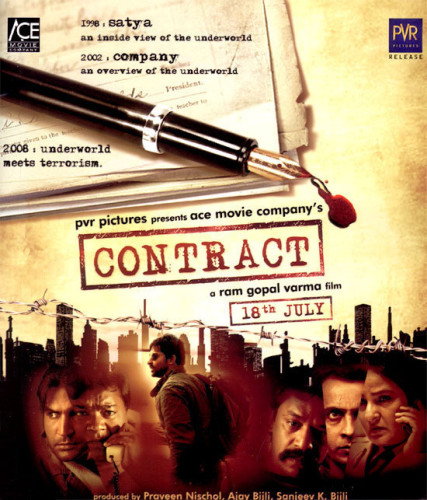 Contract is a simple narration of an underground story by Ramgopal Varma. The movie has a little bit of terrorism, inter-gang rivalry and the usual underworld gags. The movie introduces Adhvik Mahajan, a promising new comer who has done his role very well in the movie. The story line will seem like the ones you have seen before in very many movies. The lead actor is a spy who finds his way into the underworld to finish the gangsters. He has a personal enmity to finish too. He wins the confidence of the underworld don and eliminates each of them to finish off the whole gang.
Contract Songs Review
Ramgopal Varma movies have good songs, atleast one hit number even though the movie might not be a love story. Contract songs have also been set in such a background. The opening track 'Har Kafan' is a similar one set in a dark background with a little of punch and thump. The song is kind of a theme song for the movie which has matching lyrics and the fats pace mood of the underworld gangs. The item song is expected and found with 'Maula Khair Kare' which is set in a party background. The voice has a haunting tone to it and you feel as eerie as possible. 'Jeena Ka' is a simple song with easy to compose music where the music composers have not put in a good effort for this theme song. 'Twinkle Twinkle' is an unexpected number where the song is about a little child expressing his worries over the devastations around him. A heart touching one indeed.