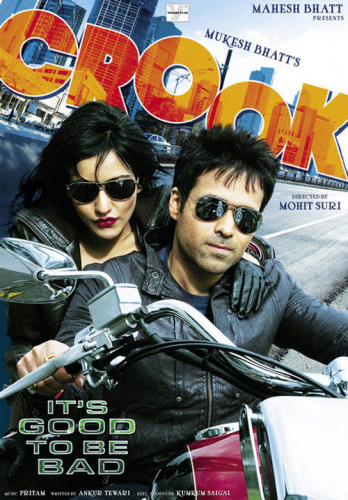 Crook is an upcoming Hindi Movie directed by Mohit Suri starring Emran Hashmi with Neha Sharma and it is her debut movie. We already know music and songs of films of Emran Hashmir Rocks! so songs of Crook are worth checking out. Music of this movie has been given by Pritam who is one of favorites of many.
Pritam won many awards for his music and the songs composed by him in Life in a Metro were awesome. Crook is expected to hit the cinemas on 8th of Oct 2010. Clearly from the trailers and promos the theme of movie is based on the racial attacks on Indians by Australians. The movie is presented to us by Mahesh Bhat. Check out the music below. Lyrics of the songs of Crook are written by Kumaar.
List of Crook Songs (With Playing Time and Singers name)
01 – Challa ~ Babbu Mann, Suzanne Dmello (03:45)
02 – Mere Bina ~ Nikhil Dsouza (04:49)
03 – Kya Bataoon ~ Neeraj Shridhar (03:49)
04 – Tujhi Mein ~ KK (05:00)
05 – Challa (Remix By Tigerstyle) ~ Babbu Mann, Suzanne Dmello (04:26)
06 – Tujhko Jo Paaya ~ Mohit Chauhan (03:04)
07 – Tujhi Mein (Reprise) ~ KK (04:40)
08 – Mere Bina (Unplugged) ~ KK (04:54)
Tujhi Mein Song is my favorite from this album. I like the video of this song a long. Actually, i like Neha Sharma and she is looking damn gorgeous in this music video. And Pritam has given awesome music to this song which makes it worth a watch.