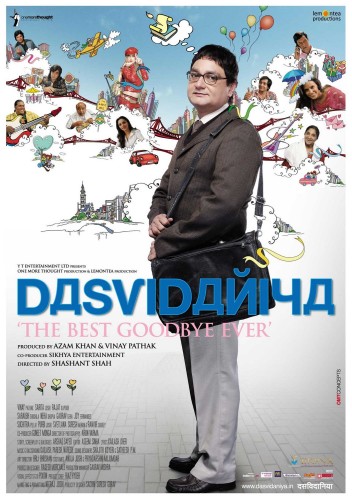 This is a new Bollywood story that is not about love, but life. Dasvidaniya is the debut venture of Shashant Shah where the story revolves about a man who realizes that he is going to die soon and wants to do all that he ever wanted to. The lead role played by Vinay Pathak has been well portrayed with good comedy, emotions and apt Dasvidaniya songs. He is a very silent and shy person who lives a simple life based on his 'To Do' List which he creates every morning. But things turn topsy turvy when the doctor informs him that he has only 3 months left as he is suffering from cancer. He then writes down his final list of 10 things to do before he dies.
Dasvidaniya Songs Album
The movie is yet another low budget unconventional movie with no big star cast to its credit. But, with Kailash Kher as the music director, lyricist and singer, the movie is worth a few expectations. On hearing the first song of the album 'Alvida' from songs.pk, You will feel as if your expectations were wrong. The song has a very slow pace with uneven western base. This one is a pure theme song which is played at certain occasions in the movie as the background track. The song has lyrics which urge one to move ahead in life seeing the better part of life. The remix version of the song is good enough than the original one which has a lounge feel to it. 'Mumma' is a good nostalgic track which is about two guys who are singing to show how much they love their mother. Not the kind that stays on your tongue, but good to see and hear once. 'Muskura' has a Russian feel to it after all the movie title is from the Russian language.