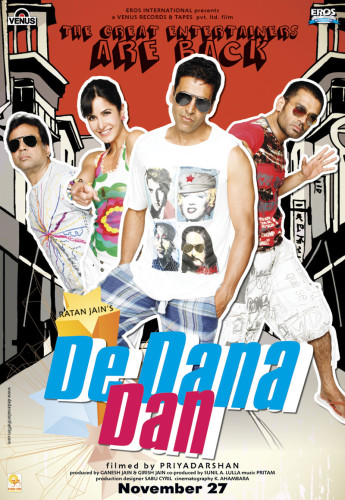 De Dana Dan is an upcoming Bollywood Movie starring the very popular Jodi Akshay Kumar and Katrina Kaif, with Sunil Shetty, Paresh Rawal, Neha Dhupia and Sameera Reddy as other actors. After the hit comedy 'Phir Hera Pheri' starring Akshay, Sunil Shetty and Paresh Rawal, making of De Dana Dan was a good idea. It is a comedy movie directed by Priyadarshan and produced by Ratan Jain and Champak Jain under the banner of Venus Records & Tapes. The music and songs of De Dana Dan are directed by Pritam and Rdb. Movie is releasing in cinemas on 27 November 2009.
De Dana Dan Music Album
The music of De Dana Dan has been directed by Pritam and Rdb and the lyrics of the songs in the album are written by Sayeed Quadri, Manak-E & Selina, Rdb, Ashish Pandit, Irshaad Kamil, Neeraj Shreedhar and Sameer. The song 'Paisa' has already created a great buzz after it was shown in trailers and promos. The De Dana Dan album has 12 songs of which 7 are remixes with total playing time of 51 minutes and 26 seconds. The songs are available as MP3s and Audio CD and now also in USB Drive, SD Card etc. The list of songs with playback singers has been given below.
List of Songs of De Dana Dan
01. – Rahat Fateh Ali Khan – Rishte Naate
02. – RDB – Paisa
03. – Javed Ali – Gale Lag Ja
04. – Mika – Baamulaiza
05. – Sunidhi Chauhan – Hotty Naughty
06. – Kunal Ganjawala – Rishte Naate (Remix)
07. – Mika – Baamulaiza (Ragga Mix)
08. – Javed Ali – Gale Lag Ja (Version 2)
09. – Sunidhi Chauhan – Hotty Naughty (Remix)
10. – Mika – Baamulaiza (Remix)
11. – Ad Boys – De Dana Dan
12. – RDB – Paisa (Club Mix)
Video Songs
'Paisa' is a hit song from De Dana Dan which has created a great buzz after it was first shown in promos and trailer of movie De Dana Dan.Hereis the Video Song of Paisa showing Katrina and Akshay in full action. The video is in full HD and high quality embedded from Youtube and added by EROS who own the copyright for the full song.
If you can't view the video here please go directly to Youtube Paisa Song where Video is available.
De Dana Dan Trailer
Here is the theatric trailers of the movie. You can also view the preview of the song 'Paisa' in movie promos. Here are the trailers-
2nd trailer of this film
To view the Highest Quality and Full HD Trailer of De dana Dan you can visit Youtube and watch the trailer uploaded by EROS Entertainment. De Dana Dan was not a much hit movie. Paisa song indeed was a hit due to good music and Katrina's presence.