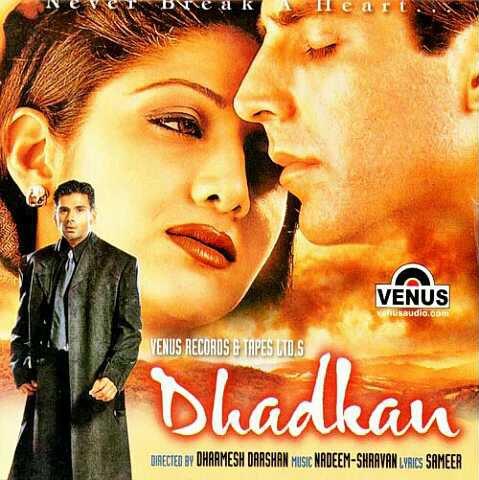 Dhadkan is a new story with all the unexpected thrills and shocks that one expects from a great movie. With a simple yet experienced cast and on low colors, the movie is a hit for its beautiful story line and the way of presentation. The movie begins with Sunil Shetty (Dev) and Shilpa Shetty's (Anjali) love story of the usual problems of lower class and high class love conflicts where Anjali's parent does not allow for the relation and she is forced to back up. She then marries Akshay Kumar (Ram). The charcter of Ram is very special and lovable that she gradually falls for him. Dev returns as a rich man for Anjali, but she refuses, and then starts a story of revenge.
Movie Information
Directed by Dharmesh Darshan
Songs and Music by Nadeem-Shravan
Produced by Ratan Jain
Starring Akshay Kumar, Shilpa Shetty, Sunil Shetty
Release date 11 August 2000
Dhadkan Songs
A result of a beautiful composition by the evergreen duo Nadeem-Shravan taking you back to the mid nineties romance. But the number of songs has come as a disappointment as we ask for more from such a good album. "Dil Ne Yeh Kaha Hai Dil Se' is the first and the best with its beautiful lyrics high in meaning and goes well with the enchanting picturization in the daffodil fields where Akshay exposes his love and asks her to love her in return. "Tum Dil Ki" is another romantic song with two renditions. The song has beautiful guitar and dholak tunes giving it a great Indian love feeling. All the songs are a must have and you can download them for free at songs.pk. The instrumental version is too good that it will make you dream about your love even without the lyrics. The shaadi song "Dulhe Ka sehra" by Nusrat Fateh Ali Khan is simply wordless for any kind of explanation.