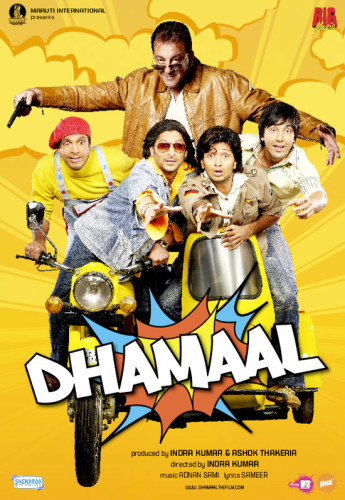 Dhamaal is truly a comedy dhamaal and adds to the many comedy movies that has been released in the year 2007. With a good comedy cast, consisting of Ritesh Deshmukh, Javed Jaffrey, Boman Irani and Arshad Warsi. They are a hilarious group of four idiots. Each of them has their own specialities. Ritesh believes he is a great detective, Javed is a wonderful idiot and Arshad adds to this wonderful group with Boman Irani being scraedof everything. Together they do small crimes, as they do not want to earn from honest jobs. Sanjay Dutt is a police officer who is behind Prem Chopra but finds him dead with these 4 idiots beside. They escape from Sanjay and the story of cat and mouse chase begins.
Movie Information
Directed by Indra Kumar
Songs by Adnan Sami
Written by Paritosh Painter (story and screenplay)
Starring Sanjay Dutt, Ritesh Deshmukh, Arshad Warsi, Javed Jaffrey
Release date September 7, 2007
Language Hindi
Movie Songs
One would wonder why Adnan Sami was chosen for the music composition of a fun movie as he is most known for his sad romance. Well, after listening to the Dhamaal songs, all your doubts would be cleared as the songs very well suit the movie and its situations. The video of 'Dekho Dekho' will make you laugh from the very beginning till the end and the lyrics and music lie concurrent and is a lively number which includes all the 4 stars of the movie. "Miss India Martee Mujpe" is yet another fun song with good orchestra arrangement and well settled lyrics which will bring anyone into the mood of the movie. The mujra number ' Chandani Raat Hai Saiyyan' will engulf you with the arrangement of various instruments. 'Chal Nache Shor Machaye' is a rock number and a good one from Adnan. The album in a whole is a good one and worth downloading from songs.pk.