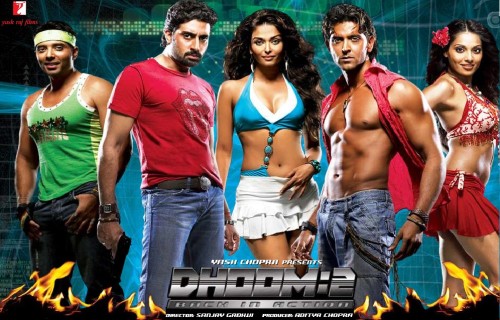 Dhoom 2 is the most rocking and youthful movie of the year 2006. It is a very colorful, thrilling, has enough of action, romance and almost anything that you could ask for. What more do you want than a super duper cast with Hrithik Roshan, Abhishek Bachchan, Aishwarya Rai and Uday Chopra. Uday becomes Abhishek's (Jai) ACP. Hrithik (Aryan) is known as shortly just 'A'. He plays the role of a high tech thief who is amking the police force go oogly woogly and the movie deals with his grand theft based in India. Bipasha Basu helps Abhishek with the investigation process. Hrithik meets Aishwarya (Sunehri) and they join hands. Does Hrithik become successful in his theft in Mubai with Abhishek on the watch?
Dhoom 2 Songs Review
After Dhoom Machale Dhoom, Dhoom 2 songs are back to rock the bollywod center stage. Not its with 'Dhoom Again' and 'Crazy Kiya Re'. 'Dhoom Again' has all in all English lyrics with a western music arrangement by Pritam. 'Crazy Kiya Re' is another to number from the movie that has rocked the charts with Ash and Hrithik moving it away at his semi rap music composition. The tune at times feels so familiar, but nevertheless, who cares when you have such a happening song from songs.pk. There is a remix version to this too which is simply faster and has a few small additions and for everything else it is the same. 'Dil Laga Na' also has the same feel as the earlier two songs but seems a little romantic on the lyrics side. This song is nowhere in the movie, but is towards the end of the movie, but a great one on the tracks.