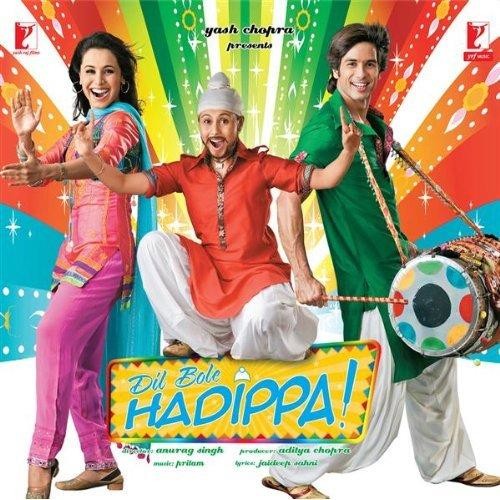 Dil Bole Hadippa! is an upcoming Bollywood Movie which is releasing on 17th of September. It is remantic comedy movie based on sports. The movie is coming under a hit banner of Yash Raj Films. The movie has been directed by Anurag Singh and produced by Yash Chopra. The movie stars Rani Mukherjee and Shahid Kapur as the main actors and co starring Anupam Kher, Sherlyn Chopra, Dalip Tahil, Raakhi Sawant, Vrajesh Hirjee and Sri Vallabh Vyas. The music and songs of movie have been directed by Pritam who is also responsible for giving music of hit movies like 'Life in a Metro'.
Movie Story
For the first time on Big Cinema we gonna Shahid Kapoor and Rani Mukherjee together in a romantic comedy. Veera (played by Rani Mukherjee) lives in a village but dreams very big. She wants to become a cricketer and want to play with Dhoni and Sachin in Indian team. She has been shown working in a local theater group. Rohan (played by Shahid Kapoor) returns to India to captain his fathers cricket team which has been loosing for 8 years. Rohan was working as a set captain in a team in England before he returned to India….. More
Dil Bole Hadippa Movie Trailer
This is exclusive trailer by Yash Raj Films. The source available in Youtube and all right to YRF who uploaded and added the video to it. You can visit youtube by clicking on video.
Dil Bole Hadippa Music
Artist: Various Artists
Album: Dil Bole Hadippa
Genre: Soundtrack
Source: CD
Year: 2009
Director- Pritam
Lyricist- Jaideep Sahni
Playback Singer: Sonu Nigam, Sunidhi Chauhan, Shreya Ghosal, Mika Singh, Kay Kay, Rana Majumdar, Alisha Chinai, Hard Kaur
Background Sound: Julius Packiam
Sound Designer: Kunal Mehta, Parikshit Lalwani
List of songs of Dil Bole Hadippa
1. (00:04:08) Mika Singh – Hadippa
2. (00:04:26) K.K., Sunidhi Chauhan & Rana M – Discowale Khisko
3. (00:05:25) Sonu Niigaam & Shreya Ghoshal – Ishq Hi Rab Hai
4. (00:04:45) Alisha Chinoy, Sunidhi Chauhan & Hard Kaur – Bhangra Bistar
5. (00:03:17) Joshilay – Gym Shim
6. (00:04:14) Master Salim – Disco Khisko (Remix)
7. (00:04:17) Mika Singh & Sunidhi Chauhan – Hadippa (The Remix)
Total Music playing time- 00:30:34