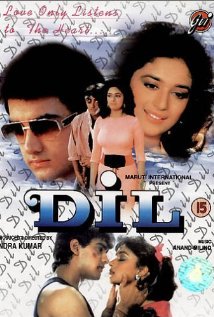 The movie stays a campus love story and the differentiation of the rich and the poor and how the couple tries to save their love from the hands of their parents. The movie stars Aamir Khan and Madhuri Dixit in the lead roles. Aamir Khan is a poor fellow whose father's role is played by Anupam Kher. Madhuri is the rich man's daughter. Both are at the same college and come face to face with each other in many situations in college. She accuses Aamir of having molested her. To take revenge, he kidnaps her to a jungle. There begins a beautiful love story. The parents fix their engagement as Anupam Kher poses to be a rich man. When the bride's father comes to know of this he insults Anupam Kher and the marriage is broken. The couple tries to fulfill their love story. Dil is a typical Indian love story.
Movie Information
Directed by Indra Kumar
Starring Aamir Khan, Madhuri Dixit, Anupam Kher, Saeed Jaffrey
Music and Songs by Anand-Milind
Release date 1990
Music Information
The movie has bestowed bollywood music with some of the best evergreen numbers. Anand Milind has given a 60s touch in most of the songs but the outstanding lyrics has made the songs memorable ones. The song 'Khambe jaise Khadi Hai' is a hit number which is a typical college 'ched chad' song. 'Dam Dama Dum' is also of the same tone, but of a fight conversation between Madhuri and Aamir. It's the time the two are in the jungle that the best songs are played. Romance Dil songs are the evergreen songs in Hindi movie and is a must download for free from songs.pk. 'Mujhe Neend Na Aaye' by Anuradha Paudwal and Udit Narayan sounds great and a hip love song. Udit Narayan is the male lead singer and has rendered his voice beautifully for the song. 'O Priya' is a soft sad love song which says the sorrows of being away from ones love.