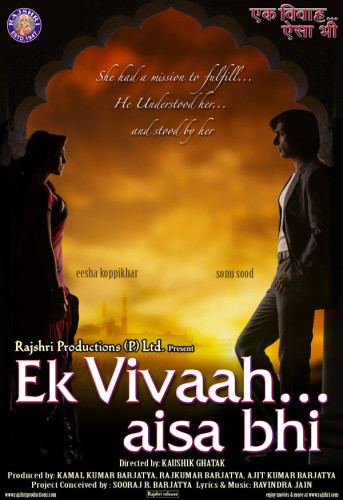 Ek Vivah Aisa Bhi is strongly rooted in emotions and traditions like any other Rajshri movie. This Bollywood movie is the kind that one must have craved to see for a long time. Isha Koppikar is a middle class girl living with her father and sibling. The family relationships have been well depicted among them. She is trained in music and during a stage show she falls in love with Sonu Sood who is a rich guy. But yet, everything goes well between them until her father dies before her wedding. She chooses to stay with her siblings to fulfill her responsibilities as the elder one. He waits for her for 12 long years.
Ek Vivaah Aisa Bhi Music Review
Rajshri music has ever been the kings of great music and is the next venture of the Barjatyas after the success Vivah and has the same music director Ravindra Jain. The base tones of all the Ek Vivah Aisa Bhi songs are pure Hindustani. The first song of the album 'Mukhme zinda Hai Woh' is a melodious song that takes one back to the 70s songs and will turn to be a very addictive and infectious one as the song proceeds. This song itself gives the proof that Rajshri Music still creates magic. 'Dekhe Akele Humne Solah Mele' is yet another melody track by Shreya Goshal again and is the kind of music that we search for in today's songs. 'Mandir Hai Ghar Ye Hamara' evokes the feeling of being in one family and lasts only for two and a half minute. In a whole all the songs of the movie are worth downloading from songs.pk and kept as a memorable collection.