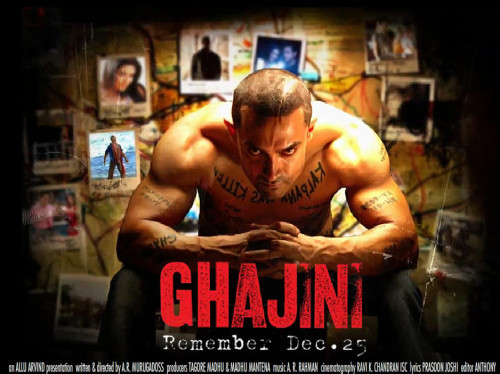 The Bollywood movie is the remake of the Tamil movie, also named Ghajini. People wait enthusiastically for Aamir Khan Movies, and this one is worth the wait. The movie has a very different plot, never told in any Indian movie. The movie has a good concept told in a very catchy manner in the movie, rendered well by Aaamir and newcomer Asin. The movie is basically a revenge saga, but has good dose of humor, comedy, love and romance. Aamir Khan suffers from Acute Short term memory loss following the incident where his girlfriend Asin dies and he gets hit in his head. But, he yet has the memory of her death still live in his mind and of the men who killed her. He tries to take revenge on them.
About Movie Ghajini:
Directed by A. R. Murugadoss
Produced by Allu Aravind, Madhu Varma, Madhu Mantena
Starring Aamir Khan, Asin Thottumkal, Jiah Khan
Music by A. R. Rahman
Distributed by Studio 18 Adlabs
Release date(s) December 25, 2008
About Music of Ghajini
Aamir Khan movies are well know for the great music and this one is no exception especially with Rahman on Ghajini songs. 'Guzarish' is the first released video album from the movie, and has created enough hype for the audience to look forward to the movie and the other songs. With beautiful picturization, and astounding music, the song has been a super hit at the chartbusters. The song is a soft and melodious romance track. 'Kaise Mujhe' is a different feel totally with the kind of sad melody, but stays in your heart forever. 'Aye Bachchu' is the foot tapping number of the movie with its western rhythm and is the party track. There is yet another dance number 'Latoo' picturized over Asin which introduces her in the movie. 'Behka' is a well paced song with good musical arrangements. The album has all good songs and the album is worth the money spent or the time taken to download from songs.pk.
More about Songs Album
Album Title – Ghajini
Music Director – A.R.Rahman
Genre – Soundtrack
CD Play Time – 28:50 min
Number of Songs – 06
Release Date – Nov-22-2008
List of Songs of Ghajini-
Guzarish sung by Javed Ali, Sonu Nigam – Vocals
Aye Bachchoo sung by Suzanne D'Mello
Kaise Mujhe sung by Benny Dayal & Shreya Ghoshal
Behka sung by Karthik
Lattoo Lattoo sung by Shreya Ghoshal
Kaise Mujhe (Instrumental) an Instrumental
Videos of the most popular songs ' Kaise Mujhe ' and ' Guzarish ' from this album in HD 1080p.
Download Ghajini Songs
You all have already listened to the lovely songs of this album Ghajini and surely want to download the tracks. But downloading free songs is not legal hence we have not provided the links to songs. There are many sites like songs.pk which do provide this service which is considered music piracy and is illegal hence should be avoided. Instead watch the best songs of this album in Full HD Quality in video that I provided above.