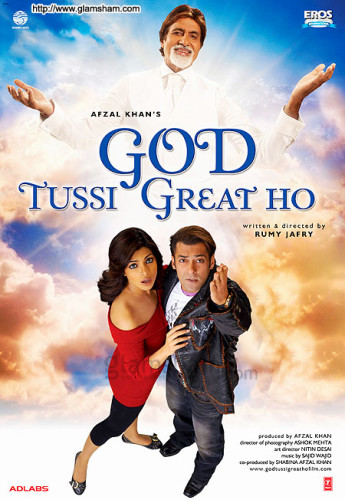 As the name of the movie gives away, the movie runs on a comedy track directed by Rum Jafry. God Tussi Great Ho is basically the 'magic' storyline with not so believable scenes. Salman is back with his mischievous role as his early movies. Arun (Salman ) gets angry at god for some reasons and god appears in the form of Amitabh Bachan who gives Arun all the powers of God and challenges him to run all the issues round the world. Salman takes up the challenge and goes around to make the world a better place for everyone. He finally realizes the difficulties of God and quits his job.
God Tussi Great Ho Songs Review
The full stretch comedy movie has funky music strewn all over God Tussi Great Ho songs. The first song of the album is a proof that the whole album is going to make you rock. 'Lets Party' is a party song picturized over Salman and Priyanka Chopra which is a kind of disco track. The song has a remix version too which also sounds great when downloaded from songs.pk. 'Tujhe Aksa Beach Ghuma Du' has a good musical composition which has a good amount of fun factor in the lyrics as well as the picturization. The remix version of the song has altered the original to become a foot tapping song. The title song seems typically like an Indian song set years back where the lyrics go about thanking god for given the powers to change the world. The song is rather situational and a remix version has been an unnecessary inclusion in the movie.