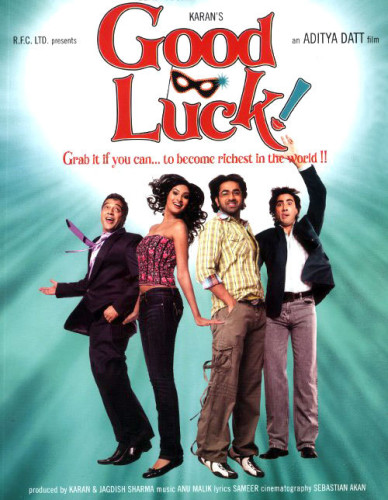 The movie release dates have been postponed every other time and the film ultimately couldn't make it at the box office. Good Luck! is about Vicky (Aryeman) who wishes to become a great singer but is struck with bad luck. That's when he meets Saba (Sayalee Bhagat) who in a particular situation kisses him and his life shines out. But things become worse for Saba and she tries to get back the kiss. The movie seems more like a fairy tale. Wonder how Aditya Datt who came up with the flick Ashiq Banaya Aapne could make such a meaningless movie. The movie is a total disaster.
Good Luck! Songs Review
Anu Malik is the man on the music board for Good Luck songs. He has quite a lot of 'not that good' albums this year and this one is another addition to the list. The fist song of the album 'Main Sajda' simply adds to the mishap with a very long instrumental beginning after which Sukhwinder Singh which has no good musical background to its credit. One would keep waiting for the boring song to get over soon, try listening to it at songs.pk. The song is yet again repeated in the again, one wonders what made Anu Malik to have created such a song. The next disaster is 'Nazar Mein Hai Chehra' which also falls short of good music and the remix version also couldn't do much to raise the level of the song. The one song which you feel has some essence to it is 'Nazar Mein' with a peppy western music. Overall the album is a total flop.