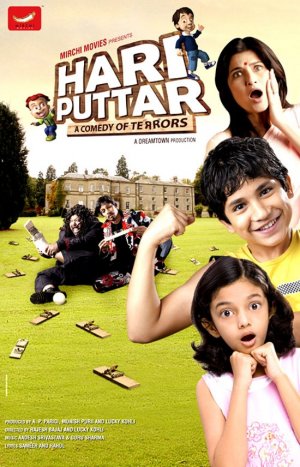 *Hari Puttar* seems to have many similarities to Home Alone rather than Harry Potter. The movie is a typical kid's movie, but the directors have wasted a good opportunity. The story is about a small boy of 10 years old, Hari Prasad who is called as Hari Puttar. He along with his family moves to UK from India as his father works on a secret project in UK and has a highly confidential chip with very critical information stored in it. Within a few days in UK, their aunt and uncle with their kids move into their house leaving Hari no space in his own room. Soon after the whole family leaves for a vacation and Hari along with one of his cousin sister is left behind. Together they try to face the villain.
Hari Puttar Songs – a letdown
The music of the album is big let down. The title song has a pure Punjabi background sung by the music director Aadesh Shrivastav, Shaan and Neha Bhasin. The song is about the boy Hari Puttar. There is two other version of the title song. The song 'Hari Hari Puttar Hai' is kind of dance track but Aadesh Shrivastava has done a very boring music here. The voice of Hamza Faruqui, Zain Khan and Soni but seems good. The song is a very situational song. Sukhwinder Singh song 'Tutari' seems like every other folk song with the dhol but is a good masti track. The remix version seems better than the original. 'Bhai Aa Gaya' is the Don kind of song. But the lyrics and the rendition and the music all seem so mismatching. The movie being a kid's movie has a sensuous song picturized on Shamita Shetty which is a very bad decision from the director's side.