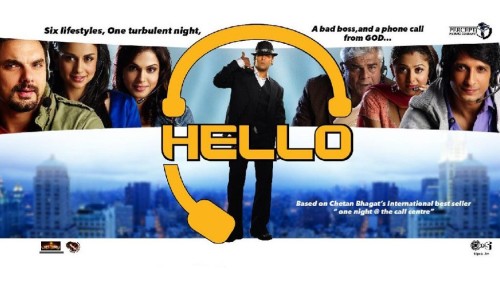 About Movie
Directed by Atul Agnihotri
Starring Sharman Joshi, Salman Khan, Katrina Kaif, Isha Koppikar, Amrita Arora
Music by Sajid – Wajid
Release date(s) October, 2008
Plot
The movie is based on the book "One Night @ the Call Center" by Chetan Bhagat. The book was a best seller but the Bollywood movie failed to create that flick. The movie is the second directorial venture of Atul Agnihotri. The movie begins on a slow pace with an entire first hour dedicated to the introduction of the characters. The story is surely a very good one, but the screenplay, dialogues and the culmination of the story into a movie has been told in a dragging manner. The movie is about the happenings that place in a call centre on a particular night.
Songs Review
Even though the movie wasn't worth mentioning, the music by Sajid Wajid has made Hello songs a good one. The title track 'Hello' has been produced after a whole deal of hard work which is evident while you listento the song. The song is supposed to be sitational track yet will make you rock along with the music. The Party Mix version of the song is also a good one and sure to be caught playing at the lounge and clubs. 'Rab Ka Banda' has sufi elements to its credit and as the trend follows intertwined with western settings, but fails to make an impression like the famous sufi mix tracks. 'Karle Baby Dance Vance' is a hit number from the album downloadable from songs.pk with Daler Mehendi on the vocals. 'Bang Bang' is an item number for Salman Khan sung by Wajid and is a hit on the television music channels.
Music Album
Artist: Various Artists
Album: Hello
Genre: Soundtrack
Source: CD
Year: 2008