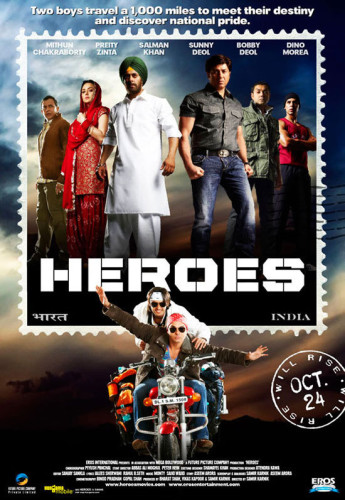 After several disasters like Kyun Ho Gaya Na and Nanhe Jaisalmer, director Samir Karnik has come up with a great cast and story for Heroes. The trailers and Heroes Songs might have given the feeling that this is a jingoistic patriotic movie. But, it really is not and is a simple story which sure do express ones one for the nation. This about two boys, Sohail Khan and Vatsal Seth, who has to deliver three letters that they have to deliver by hand to the family of the deceased martys as a part of their film school assignment. The story displays the sorrows of the families of a martyr and their sacrifices.
Hindi Songs of Heroes
With Sajid-Wajid on the music and Monty for the lyrics, and a great cast line like Salman Khan, Preity Zinta, Sunny Deol and Mithun Chakravorty, the songs of Heroes are a great expectation. 'Mannata' is a slow track picturized over Salman and Preity set in a Punjabi feel with green lush fields. Kavita Krishnamurthy returns after a long and that one factor that makes the song very special. The song is a pure Indian track downloadable from songs.pk. 'Wats Up My Bro' is a rocking number from the movie with a western base to it sung well by Kunal Ganjawala. The track works like a background track for the two guys who are out to deliver the letters. 'Makhana' is a Punjabi bar dance number which will give you a feeling of the 90s numbers. The Killer remix version of the song seems like they are getting back into the track, but in vain. 'Badmash Launde' is a track worth mentioning for all the wrong reasons.