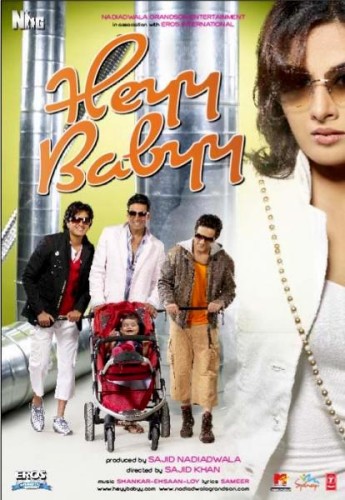 Heyy Babby movie involves three men who are left with a baby on their doorsteps one fine morning. The Bollywood movie trailer is very much enticing which leaves who eager to know more about the story. Sajid Khan has given a good quality comedy script. The trio, Akshay, Hritesh and Fardeen are three bachelors living a flirty life in Sydney with hot women on scenes. One fine morning, they have an unwelcome guest, a cute little baby Angel. Initially they find it difficult with the baby, but later they 3 begin to care for her like fathers. Vidya Balan plays the lead female role and her entry into the scene turns the story into an emotional one.
Heyy Babyy Facts
Director : Sajid Khan
Starring : Akshay Kumar, Fardeen Khan, Ritesh Deshmukh Vidya Balan Boman Irani
Songs : Shankar-Ehsaan-Loy
Distributor : Nadiadwala Grandson Entertainment
Release date : August 24, 2007
Music of Heyy Babyy
The music is composed by Shankar-Ehsaan-Loy.
Music and Songs Album of Heyy Babby
Shankar-Ehsan-Loy has tried to bring back their long lost magic with Heyy Babyy songs. Listen to the first song 'Dholna' from the album at Hindi Songs site songs.pk and you would realize that you are moving your shoulders to this tabla and guitar backed village party music. Keeping to the remix trend, the album has 'Love is in the air remix' by DJ Whosane. This lounge mix has timely claps that would tempt you to clap along. The title track 'Heyy Babyy' has hippy lyrics and a beautiful chorus line giving a cool retro feel while you listen to it. The remix is a club style that will make you grooving and shaking with the tempo. The title track has another rendering, a newer concept remade by Australian Divas, an Australian band. A true party rocker number. The best song of the whole album is 'Meri Duniya Tu Hi Re' which runs on a slow track with great engulfing lyrics which will surely make you feel the love for your baby.
Movie Review
You can read the review of this movie Here
List of Songs
| No | Song Name | Artist |
| --- | --- | --- |
| 01 | Heyy Babyy | Neeraj Sridhar,Raman,Pervez Quadir,Loy |
| 02 | Dholna | Sonu Nigam,Shreya Ghoshal |
| 03 | Mast Kalandar | Salim Shehzada,Rehan Khan,Shankar Mahadevan,Sajid Khan |
| 04 | Heyy Babyy Featuring Girl Band | Girl Band |
| 05 | Jane Bhi De | Shankar Mahadevan,Loy |
| 06 | Meri Duniya Tu Hi Re | Sonu Nigam,Shaan,Shankar Mahadevan |
| 07 | Dholna (Love Is In The Air Remix) | Sonu Nigam,Shreya Ghoshal |
| 08 | Heyy Babyy (The Big 'o' Remix) | Neeraj Sridhar,Raman,Pervez Quadir,Loy |
| 09 | Jaane Bhi De (Hiphop Hiccup Remix) | Shankar Mahadevan,Loy |
Heyy Babby Video Song Full