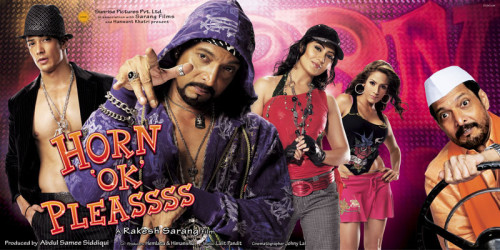 Horn Ok Please is all full stretch comedy movie which will make you laugh all the way throughout the movie. The movie is not for the critics or people who ask questions out of the movie. With a star cast with Nana Patekar on the lead the movie has been wrongly released in 2008 alongside Murder and other high end movies. Nana Patekar plays the role of a truck driver who turned into a millionaire one fortnight. He owns Mercedes and other costly cars but loves to drive his truck. He is married to Rimi Sen in the movie. He meets a guy whom he becomes very friendly with. Nana then helps this guy kill the husband of the girl whom the guy is in love with. But this husband is Nana himself.
Horn Ok Please Songs Album at Songs.pk
With music by Lalit Pandit, the songs are very much related and fitting in the movie with its funky feel. The music release of the movie was very extraordinarily conducted at 'Lal Bagh ka Raja' temple in Mumbai. Ganesh Acharya is the choreographer of the songs and has done his job well. The title track 'Pom Pom Pom' has a western feel to it but is a truly theme song making a failure at the chartbuster list. The song can be heard in its remix version in the album, but still not so enticing. 'Nathani Utaro' is an item number featuring Rakhi Sawant starring Nana Patekar and Muzammil Ibrahim. The song is well sung by Sunidhi Chauhan with simple lyrics downloadable from songs.pk. But the remix version has nothing special to it. 'Ayela Ayela' is a total disaster of a song seeming more like the 80's tracks and will do no effect in the 20th century janta.