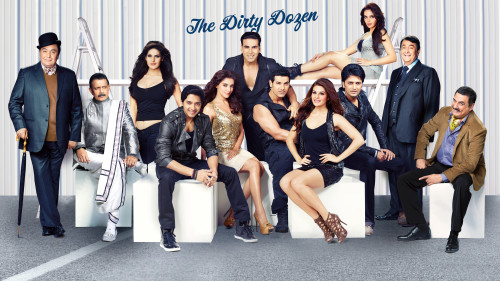 Housefull 2 is another feather in Sajid Khans House Production. The promos that the television flashes, gives an indemnity of the movie being a smash hit. Housefull has a huge star cast. It is a chock a block entertainment of four fathers, four daughters and four potential sons in laws who disgust each other and still stay in the same house.
Though the director Sajid Khan has two movies BABYY and HOUSEFULL to his glory but his choice of music is indisputable. The movies he produces give us all time entertainment and drama and so does his chart numbers. The music of the movie raise high expectations as Sajid Khan has twined in Sajid and Wajid to compose the music.
Download Songs
Buzzworld.in doesn't offer free MP3 downloads. You can still listen to songs for free here
Music Review
The movie has lined up four tracks and their remixed versions. The first song that makes you shake leg is Papa Toh Band Bajaye. It is an infectiously haunting number that will leave you tapping your legs. The song has already made to the top of chartbuster list with its controversy of the beats being similar to "We No Speak Americano". T he next is a mujra type item number sung by Mamta Sharma. It's a desi tack with some hip hop beats and the cut stone is seductive Malika Arora Khan. The third song is " Do you know " sung by Shaan and Shreya Ghoshal. The last song "Right Now Now" is sung by Sajid and Sunidhi Chauhan with Suzanne De Mello. Expect the youth to be grooving to this track in pubs. The whole music album is masala hit.