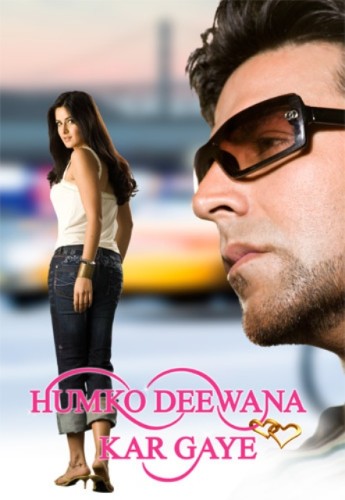 The Bollywood movie has a great cast with the action man Akki, the hot hot Bipasha Basu and the cutie Katrina Kaif with Raj Kanwar , T-Series and the Kumars. But something went missing in the movie that it couldn't stand up to the expectations of the people. Aditya (Akshay Kumar) and Sonia (Bipasha Basu) are engaged but they do not have anything in common about them. When their marriage date nears, both of them have to travel abroad for business reasons. In Canada, Aditya meets Jia (Katrina) who is engaged to business tycoon Oberoi (Anil Kapoor). They become close to each other, but due to slight misunderstanding they separate to their homelands. But fate brings them together.
Movie Name : Humko Deewana Kar Gaye
Release Date : 14 April 2006
Songs by Anu Malik
Genre : Romance, Social
Producer : Bhushan Kumar, Raj Kanwar, Kishan Kumar
Director : Raj Kanwar
Cast : Akshay Kumar, Katrina Kaif, Bipasha Basu, Anil Kapoor
Humko Deewana Kar Gaye Songs Reviews
Humko Deewana Kar Gaye is the come back album for Raj Kanwar after 3 years of gap and he has done a good job for the album. The title track "Humko Deewana Kar Gaye" has been added in four different version in the album. The original track is a melody number which has a pure Hindustani touch to it with the flute play in the background rendered flawlessly by Sonu Nigam and Anuradha Paudwal. The song's sad version is a master piece and a must download from sonsg.pk. The song 'Fanaah' picturized beautifully with Akki is a catchy number and anyone will fall in love with the song after listening for the first time itself. It is kind of an item number with Katrina looking hot in the song with foot tapping music. Abhijeet is back with his thumping voice for 'Rock Star' which is a pure dance track with jazz and bhangra beats.
About the Music Album
Presenter : Gulshan Kumar
Banner : T-Series
Music Director : Anu Malik
Lyricist : Sameer
Playback Singer : Sunidhi Chauhan, Sonu Nigam, Tulsi Kumar, Kay Kay, Anu Malik, Abhijeet, Alka Yagnik, Shaan
List of Songs
| No | Song Name | Artist |
| --- | --- | --- |
| 1 | Tum Saanson Mein | Himesh Reshammiya, Tulsi Kumar |
| 2 | Humko Deewana Kar Gaye | Sonu Nigam, Tulsi Kumar |
| 3 | Bula Denge Tumko Sanam | Sonu Nigam |
| 4 | Fanah | KK, Anu Malik |
| 5 | Mere Saath Chalte Chalte | Shaan, Sunidhi Chauhan, Krishna |
| 6 | For Yours Eyes Only | Sonu Nigam, Krishna, Nandini |
Humko Deewana Kar Gaye Video Songs
Tum Saanso Mein

Bhula Denge Tumko Sanam

Fanaah