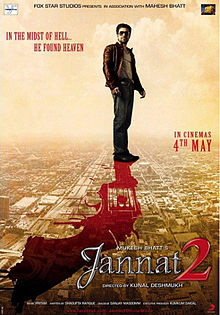 Jannat 2 is the carry-over of 2008 film, Jannat that paved its way to Box Office and was written by Vishesh Bhatt and directed by Kunal Deshmukh. Indian Cinema is trying its hands in different genres; crime thriller is one of the favorite choices. Jannat 2 is forthcoming crime story with a mystery line created to inflame the suspense instincts. The movie film is furthermore directed by Kunal Deshmukh, and produced by Mahesh Bhatt and Mukesh Bhatt. The movie spotlights the subject of illicit weapons in Delhi. The movie star casts Emraan Hashmi and Esha Gupta who was chosen over Prachi Desai and Paoli Dam. The televisions flashed the movie premier on 15th March 2012 and the movie is supposed to shake the theatres on 4 May, 2012. Check out the Jannat 2 trailer below:
Jannat 2 Songs Album
There is paramount of expectation from the music album of Jannat 2 as the music of Jannat rocked the charts. The music is composed by Pritam and so would strike a chord with music lovers. The first song that has flashed "Tu Hi Mera", has hosted the flag of expectations from the music album. It's a romantic flick number sung by Hafqat Amanat Ali. The song embraces a very soft tune and strings of well used Guitar with breathtaking lyrics by Sayeed Quadri. It gives a very relaxing effect as it has Qawwali touch to it. Every Song of Emraan Hashmi is a treat to his fans (true for me 😉 ) and this movie would be no exception as its first song is very melodious. Let's keep the fingers crossed for subsequent songs.