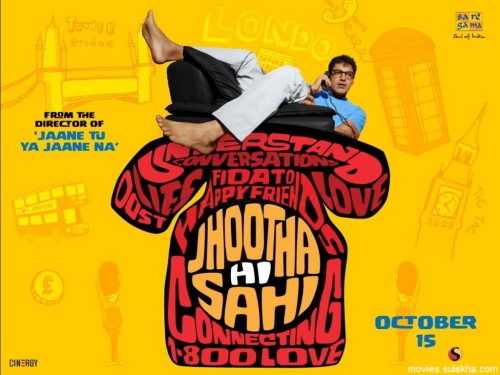 Abbas Tyrewala who directed a hit romantic comedy Jaane tu Ya Jaane Na is back with his another movie of same genre Jhootha Hi Sahi. Starring John Abrahim and Pakhi together on the big screen, with the first time for Pakhi. The story of the movie has also been written by Pakhi. Songs of Jhootha Hi Sahi will be releasing on 15th of Septermber as Audio CDs and MP3s. The movie will hit the cinemas on Oct 15th 2010. The music and Jhootha Hi Sahi songs are directed by world renowned music director A.R. Rahman and expectations will be high. List of the songs with name of singers has been given below.
When you watch the trailer of Jhootha Hi Sahi it is clear that this movie will be awesome. We all liked Jaane Tu Ya Jaane Na and now same director brings to us Jhootha Hi Sahi. Jhootha Hi Sahi songs and trailers are also great and music plays a important role in success of a movie. Cry Cry, a song from this film is great, and is meant to be because musis is composed by AR Rahman.
Jhootha Hi Sahi Trailer

You can also watch this video on Youtube. Simply click on the Youtube Logo on video.
Jhootha Hi Sahi Songs List
01. Cry Cry – Rashid Ali & Shreya Ghoshal
02. Hello Hello – Karthik
03. Do Nishaniyan (Heartbreak Reprise) – Sonu Nigam
04. Pam Pa Ra – Shreya Ghoshal
05. Do Nishaniyan – Sonu Nigam
06. Maiyya Yashoda (Jamuna mix) – Javed Ali & Chinmayi
07. Call Me Dil – Rashid Ali
08. I've Been Waiting – Vijay Yesudas
09. Maiyya Yashoda (Thames mix) – Javed Ali & Chinmayi
The music of Jhootha is Sahi has been released and is already available at numerous sources. You can listen to the songs at- In.com
Note- In.com will allow you to listen to all Jhootha Hi Sahi songs but will not allow you to download them for free.
Cry Cry is an awesome song. Listen to this track and you can easily guess the music is given by A.R. Rahman. The song has been sung by Rashid Ali & Shreya Ghoshal. Other Jhootha Hi Sahi Songs will be releasing on 15th September. You can watch the promo of Cry Cry Song below in HD (Full HD also available).
The above video is embedded from Youtube. If you have a slow connection try to load the song video in low resolution.