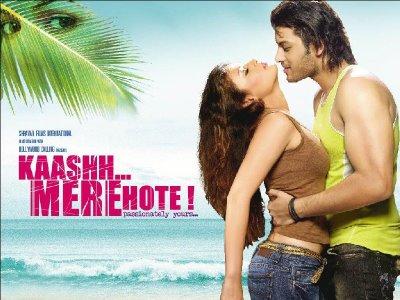 We all remember the hit movie Darr which introduced Shah Rulh Khan as a versatile actor. This one, Kaash.. Mere Hote is a bollywood movie taking its roots from Darr. But the only difference remains that in this movie, the woman is the obsessed lover, weird indeed. But the movie does not make it big in the box office and even though Kaash… Mere Hote songs are good; they too fail, especially due to its illogical story line which depicts the obsessed lover to have supernatural powers. Newcomer Kumar Sahil plays the role of a fashion photographer and has a love relation with Sneha Ullal. He goes to Mauritius for a photo session and meets Sana Khan. She falls in love with him. She does all that she can to get him.
Kaashh… Mere Hote! Songs
With Sanjeev-Darshan, the sons of Nadeem-Shravan, and Sameer on the lyrics, the songs are likely to be good to the ears. The great songs of Mann composed by the duo, still remains in your mind. The first song track 'Teri Naganee' is a Punjabi based track which has good rhythm and orchestra. The song incorporates the music of this generation with folk song plus urban feel, the right kind of a dance track downloaded from songs.pk. But the song did not make it at the box office due to its bad promotions and picturization. The remix version of the song is also very good, and if this song had gained some promotions, the song would have been a super hit. The title track 'Kaash.. Mere Hote' is a slow song with a beautiful melody track, but not the best to meet the competition running in the music industry. 'Dil Ye Mere Dil' is not that outstanding enough, but yet one of the better songs of the album which has an indi pop feel all through the song.