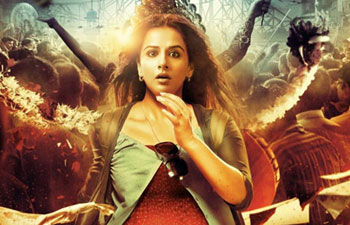 Kahaani is a bizarre narration with bright script that stars Vidya Balan as a pregnant lady trying to seek and solve the mystery of her disappeared husband. The story is based in Kolkata with a Bengali feel to it. The movie directed Sujoy Ghosh has so many twists and turns to it that whenever you are assured of what the climax would be, the writer again takes you for a rollercoaster ride.
About the Music Album
The melodious music is composed by Vishal – Shekhar. They brought into play and made use of an outstanding opportunity that they received for exploring a different terrain. All the tracks of the movie are interconnected to the situation of the movie and have a Bengali flavor to them. The song that crowns the album is Shotti bolchi, sang in heavy voice of energetic Usha Uthup. Another nugget is in Piya tu kaahe rootha re which is the bolt from the blue, as there has been blending of manjira and an electric guitar. Pakistani singer Javed Bashir's has made the song exceptional with his powerful alaaps. The title track "Kahaani" is a situational song with ground-breaking lyrics and sounds of taxi wheels, tram bells that gives you the feeling of the city. "Tore bina" sang in Sukhwinder Singh's energetic and high pitch voice is a dreamy song. The last one is the tiara "Ekla chalo re" a patriotic song by Rabindrnath Tagore in intense voice of Amitabh Bachan which tells u to walk alone, suits the theme of movie. The Music album is to be relished and enjoyed for a long time.
Kahaani Songs