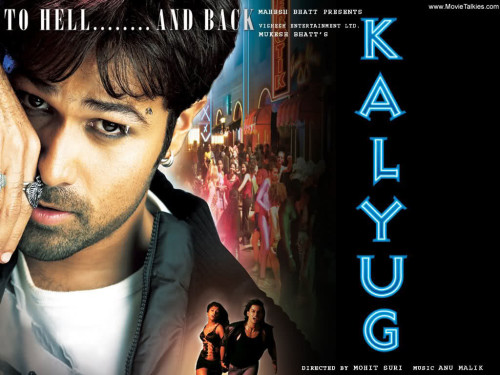 Kalyug depicts the gory porn mafia. This picture tries to portray the nasty environment of porn mafia that operates and feeds on innocent boys and girls. Kunal Kemu and Smilie fall in love and get married. The couple decides to go for a romantic honeymoon and stays at a hotel. Ashutosh Rana who is playing the role of a villain captures the most intimate moments between Kunal Kemu and Smilie in the room. The couple get arrested by police and hero is charged with malicious crime like making adult movies by seducing young and innocent girls. The police also play a negative role in the movie where policemen try to pressurize Smilie to turn against Kunal. She commits suicide and Kunal wants to take revenge. The actual plot starts from here. The movie that was secretly shot by Ashutosh Rana is being shown in Genoa. Kunal goes to Genoa and meets Emraan Hashmi who runs a porn racket and assists him in finding Deepal Shaw who is closely as coated with that secret film.
Produced by Mukesh Bhatt, Mahesh Bhatt
Starring Kunal Khemu, Deepal Shaw, Smily Suri, Amrita Singh, Emran Hashmi
Songs by Anu Malik
Distributed by Vishesh Films
Release date(s) December 9, 2005
Kalyug Songs Album
The songs of Kalyug are very appealing and tempting. Lyrics and music are cleverly incorporated and music aficionados would surely appreciate the harmonious tunes. Music of the film can surely inspire and music fans would have a fabulous time exploring these incredible songs. Alternatively, you can also download or hear the entire melodious compositions on Songs.PK. This Bollywood Movie may not be suitable for teenagers but adults can definitely enjoy watching this film. The story is realistic with good performances by Emraan Hashmi and Kunal Kemu.
Popular Tracks
* Aadat si hain mujhko – Atif Aslam

* Jiya dhadak dhadak jaaye – Rahat Fateh Ali Khan