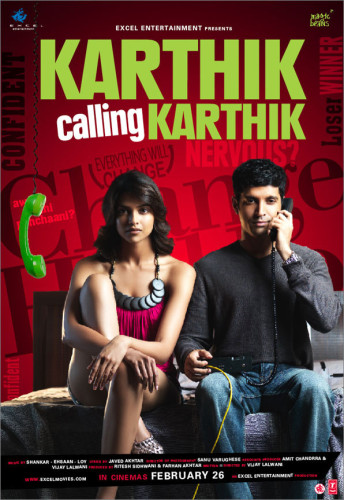 Music and songs of Karthik calling Karthik are now released. Karthik Calling Karthik is upcoming Bollywood Movie which is releasing on 26 February 2010. Starring Farhan Akhtar with Deepika Padukone, and directed by Vijay Lalwani under the banner of Excel Entertainment and Magic Beans is a romantic thriller. After a hit musical movie Rock On, Farhan Akhtar the producer (with Ritesh Sidhwani) is back with this movie. Luck by Chance was another movie of his but failed to do something magical in box office. Karthik Calling Karthik Songs are directed by Shankar, Ehsaan, Loy.
Karthik Calling Karthik Music Album
The music album of Karthik Calling Karthik is directed by Shankar, Ehsaan, Loy and the lyrics to the songs are given by Farhan's father i.e. Javed Akhtar. There are nine songs in the album and total playing time of the songs is 42 min 05 sec approx. Baylon Fonseca is the sound designer of this movie. List of songs with singers name and playing time has been given below. The songs are available at various stores in Audio CD and MP3s and also available at various sources online as 320 KBPS MP3.
Karthik Calling Karthik Trailer
Get a glimpse of the movie on the first Theatrical Trailer of Karthik Calling Karthik in High quality and HD Video. Trailer looks nice and somewhat thrilling, well Farhan Akthar is known to add the thrill factor in his films, as in Don.
List of Songs
| No | Song Name | Singers-Artists | Playing Time |
| --- | --- | --- | --- |
| 1 | Hey Ya! | Clinton Cerejo, Shankar Mahadevan & Loy Mendonsa | 00:04:17 |
| 2 | Uff Teri Adaa | Shankar Mahadevan & Alyssa Mendonsa | 00:05:06 |
| 3 | Jaane Ye Kya Hua | K.K. | 00:04:05 |
| 4 | Kaisi Hai Ye Udaasi | Kailash Kher & Sukanya Purayastha | 00:06:07 |
| 5 | Karthik Calling Karthik | Suraj Jaggan, Shankar Mahadevan, Caralisa Monteiro & Malika Singh | 00:03:11 |
| 6 | Karthik 2.0 | Midival Punditz & Karsh Kale | 00:04:06 |
| 7 | Karthik Calling Karthik (Theme Remix) | Midival Punditz & Karsh Kale | 00:05:48 |
| 8 | Hey Ya! (Remix) | Clinton Cerejo, Shankar Mahadevan & Loy Mendonsa | 00:05:18 |
| 9 | Uff Teri Adaa (Remix) | Shankar Mahadevan & Alyssa Mendonsa | 00:04:07 |