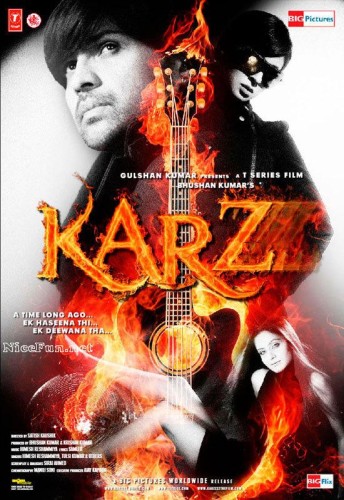 Karzzzz is a remake, better say reincarnation of Subhash Ghai's Karz. Satish Kaushik has done justice to the new version and has stood the challenge of critics and comparisons. There are slight variations from the original movie bought about by writer Shiraz Ahmed. Himesh Reshammiya plays he lead role as Monty who is the singing star. He lives in South Africa and meets Tina (Shweta Kumar). He falls in love with her in the first sight itself. Things take a turn when he collapses in trance after visual images of a temple, a mansion and a beautiful girl while performing a show. He tries to fin dthe reason for his trance stage and the images.
Sizzling Songs from Karzzzz
One can expect sizzling music with Himesh Reshammiya's second venture as actor, cum composer. He as always has given a good collection to the lagging music industry with Karzzzz songs. The album is fully filled and over loaded with 8 original tracks, and 11 remixes, an astounding total of 19 songs. What more could you ask from a music album? 'Lut Jaon' is the title track of the movie which has lounge music and as any other Himesh musicals will stay on your tongue and can be heard it at songs.pk. The tone of revenge will well embed in the lyrics and the musical composition and is rightly created with the story in mind. 'Hari Om Hari Om' is the next track from the movie which is a dance track with punching and thumping music. The song has two remix versions to its credit and all are superb. 'Tandoori Nights' is a funky number and very catchy indeed.