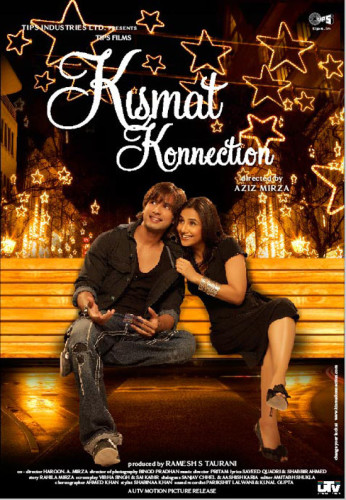 Kismat Connection is a Bollywood movie which as simple love story told in avery great way by Aziz Mirza. But the problem occurs in the second half of the movie where the story drags to the climax. Raj (Shahid Kapoor) was topper in college but after four years he is still struggling for the breakthrough chance. He starts feeling that he has a problem with his lucky and meets an oracle, played by Juhi Chawla. She says he will find all come his way, but he has to find his lucky charm. Soon after, Shahid gets through into a prestigious project for Vidya Balan. Is Vidya Balan his lucky charm?
Kismat Konnection Music Review
Kismat Connection songs are next in the row of Pritam's hits for the year 2008. The first song of the album is a chartbuster with the mix of English and Hindi lyrics by Shabbir Ahmed. "Aai Paapi" sounds superb in its original version and even better in the remix version. The best from the album and even Shahid's personal favorite is 'Bakhuda Tumhi Ho'. The song is really worth downloading from songs.pk Atif Aslam on the vocals. The song has stood up to the expectations set on the pairing of Pritam and Atif Aslam. The song is a rather soft track and the remix version is looked upon with surprise and you get a real surprise as the original track is kept intact and the remix does zero damage to the essence of the song. With Pritam, a dance number is must, and you get it with 'Move Your Body Now' and you will tap and rock as soon as the song begins.
Bakhuda Tumhi Ho Video Song