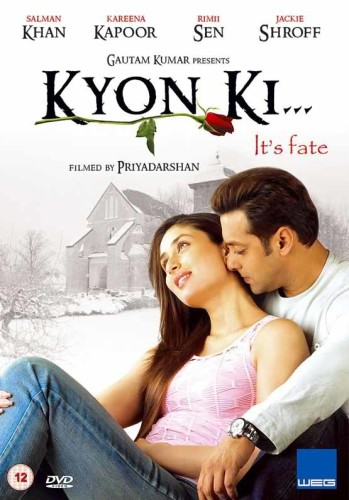 Kyon Ki might be a special movie in the sense that Salman Khan would be acting for the very first time in a film directed by Priyadarshan. He would act with Kareena Kapoor for the first time as well. However, the movie is hugely inspired by a Hollywood flick and it may be interesting to visualize how an Indian director would modify the story as per the Indian taste. The character of Anand played by (Salman Khan) falls in love with Maya played by (Rimmi Sen). The story is quite amusing in the sense that Maya's nature is extremely prankish and she constantly plays playful tricks on Anand. There is a freak mishap where Anand pushes Maya into a swimming pool thinking that she knows how to swim but in reality she does not know how to swim. Maya dies in this freak accident and Anand loses his mental balance and is hospitalized for mental treatment. Dr. Tanvi played by (Kareena Kapoor) who is the daughter of Dr. Khurana played by (Om Puri) tries to cure Anand.
Songs Review of Kyon Ki
The Kyon Ki Songs may not be that appealing and music is just satisfactory. Mainly, one or two sings may be worth listening and the rest of the songs lack that punch or zeal. However, the full compositions can be heard on Songs.PK as per your requirement. On the whole, the acting of Salman Khan is pleasing trying to portray the character of a mentally challenged person. Manoj Joshi's and Om Puri's performances may just be considered OK. This Bollywood movie might be a one-time watch for viewers.