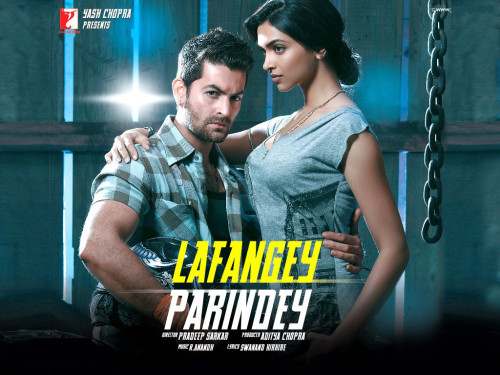 Lafangey Parindey is an upcoming Bollywood Movie directed by Pradeep Sarkar and produced by Aditya Chopra under banner of Yash Raj Films starring Neil Nitin Mukesh and Deepika Padukone for the first time together on the big screen. Neil Nitin Mukesh did a very good job in New York and Deepika Padukone was amazing in Love Aaj Kal so there are a lot of expectations from the movie. The music of the movie has been directed by R. Anandh and lyrics to the songs of Lafangey Parindey are written by Swanand Kirkire. The Audio CDs and cassates and MP3 songs of the movie are available under the banner of Yash Raj Music Records. List of the songs with the singers name is given below.
01 – Ronit Sarkar – Lafangey Parindey
02 – Mohit Chauhan – Man Lafanga
03 – Shail Hada & Anushka Manchanda – Dhatad Tatad
04 – Shilpa Rao – Nain Parindey
05 – Suraj Jagan – Rang Daalein
06 – Instrumental – Born To Fly
07 – Mohit Chauhan – Man Lafanga (Remix)
The movie is releasing on 20 August.
Enjoy the first theatric trailer of this movie in HD below.
Lafangey Parindey Theatric Trailer HD