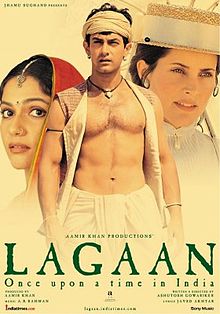 There are not many movies that can keep the audience engrossed for three running hours. Lagaan is one such movie which has changed the concept of Bollywood movie across the globe. A classic movie full of entertainment and meaningful cinema made its place in the heart of the audience and critics.
Main Film Details
Directed by Ashutosh Gowariker
Produced by Aamir Khan, Jhamu Sughand
Starring Aamir Khan, Gracy Singh, Rachel Shelley, Paul Blackthorne
Songs by A. R. Rahman
Distributed by Aamir Khan Productions
Release date(s) June 15, 2001
Language Hindi, English
Lagaan Plot: The story of "Lagaan" is the fight between the locals of a British controlled India against the British to extract itself from crushing taxes. The local Indian king has made a deal with the British commandant to double tax the town to make up for the lost tax for prior drought-stricken year. The local people are not in the position to pay such high tax and on complain, the commandant offers them a malicious deal. All taxes for three years will rescind if the locals beat the British in a game of cricket. However, if British win, the tax will be tripled. Though the local people do not how the game of cricket, the local leader bhuvan (Amir Khan) with the help of the sister of the British officer fill will and determination in the minds of the people to fight against tax.
Ashutosh Gowariker has made an excellent movie with the cricket match being the most exhilarating part of the film, which keeps the viewer standstill right till the end.
Lagaan Songs Review
Another aspect of the movie which catches attention of many is its music. Rehman has done justice the look and feel of the movie with his inspiring music. Every song gels well with the mood of the film. Every song has been well placed with mesmerising effect on the viewer especially 'Ghanan Ghanan', and 'Radha Kaise Na'. Even the background score is worth mentioning. All songs of the movie are available online to be easily heard and downloaded. Songs.PK is a good option to listen to the enchanting music.