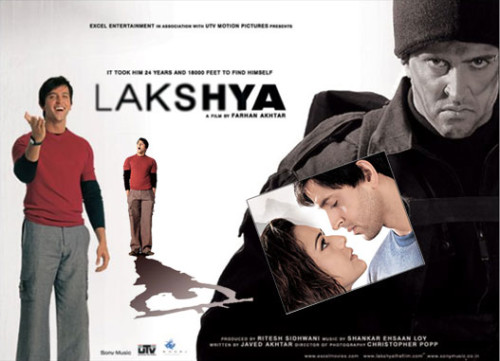 A love story which holds the essence of patriotism that is what Lakshya the movie is. This Bollywood movie has been well spun so make one proud of being an Indian and the climax will surely bring tears to the eyes of any Indian. Hrithik Roshan (Karan) lives a carefree life lounging around with his love Romi (Preity Zinta). Even after several bashing and scolding, he never hanged his attitude towards life until one fine morning he decided to take it to the Indian Military Academy. He wanted to prove himself, but could not tolerate the hard sessions there and returns home. Neither his love nor his father welcomes him and he returns a sadder person, only to rise to the post of a key military officer. What endures later is a struggle for the nation, a heart rendering one.
Movie Facts
Director Farhan Akhtar
Starring Amitabh Bachchan, Hrithik Roshan, Preity Zinta
Lakshya Songs by Shankar-Ehsaan-Loy
Distributed by Excel Entertainment
Release date 18 June 2004
Lakshya Music Review
With Shankar-Ehsan-Loy and a Hrithik Roshan movie, Lakshya songs are all the more better. The best song is 'Kitni Baatein' which is a soft and sad melody. Usually todays generation do not like the sad songs, but this one stands out among the crowd with its great music and the rarely seen Hariharan on the vocals. While hearing the song, half way through you feel as if you are listening to an A.R. Rahman song, but with no copying done by the music directors. 'Agar Mai Kahoon' is a peppy and hip way to say ones love in a conversational style and can be downloaded from songs.pk. The rhythm keep you feel nice and into the song. The patriotic song 'Kandhon Se Milte Hain Kandhe' has been picturized and presented well. Unlike most other patriotic songs which have a feel of jingoism all through it, this one gives you a different feel altogether with the hip and rock music.
List of Lakshya Songs
| No | Song Name | Playing Time |
| --- | --- | --- |
| 01 | Main Aisa Kyon Hoon | 04:34 |
| 02 | Agar Main Kahoon | 04:52 |
| 03 | Kitni Baatein | 05:47 |
| 04 | Lakshya | 06:15 |
| 05 | Kandhon Se Milte Hain | 05:40 |
| 06 | Separation | 02:30 |
| 07 | Kitni Baatein (reprise) | 04:11 |
| 08 | Victory | 03:20 |