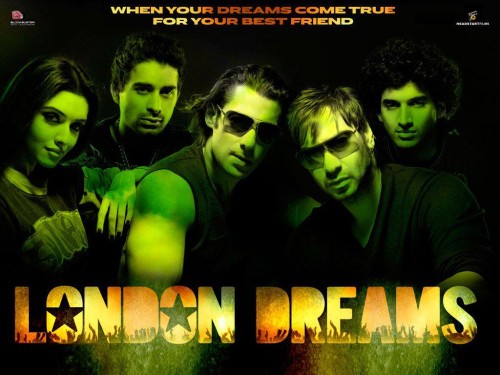 London Dreams is an upcoming Bollywood movie releasing on 30 October 2009. It is directed by Vipul Shah and produced by Headstart Films UK Ltd. under the banner of Blockbuster Movie Entertainers. It is a drama and musical movie starring Salman Khan, Ajay Devgn, Asin, Om Puri as main main leads. The story of the movie has been written by Suresh Nair. The music and songs of London Dreams were earlier planned to be directed by A.R. Rahman but finalized Shankar, Ehsaan, Loy were finalized. The movie is expected to be a big hit.
London Dreams Movie Trailer
Here is the first glimpse of London Dreams movie. The trailer is available for youtube and has been embedded for promotional purposes. All credits to one who uploaded the movie trailer.
London Dreams Story
London Dreams is a story of two childhood friends who wanted to become big music rock-stars, and do their best in music industry. The two main leads (played by Salman and Ajay Devgan) were the singers of the band and Asin was the dancer of the band and name of the band was 'London Dreams'. They wanted make their dream of becoming big stars in music industry a reality. But Asin, who is the dancer, is the one to whom both of them love and… More
London Dreams Music Album
Album Name- London Dreams
Release- September 2009
Music Director- Shankar Ehsaan Loy
Lyricist- Prasoon Joshi
Background Sound- Salim Merchant, Sulaiman Merchant
Label- T Series
Format- Audio CD and MP3
No of Songs- 11 (Including Remixes)
List of songs of London Dreams
01 – Vishal Dadlani & Roop Kumr Rathod – Barson Yaaron
02 – Shankar Mahadevan – Man Ko Ati Bhavey
03 – Feroz Khan – Tapkey Masti
04 – Mohan – Khanabadosh
05 – Rahat Fateh Ali Khan & Shankar Mahadevan – Khwab Jo
06 – Roop Kumar Rathod & Milind – Yaari Bina
07 – Abhijeet Ghoshal – Jashn Hai Jeet Ka
08 – Zubeen Garg – Shola Shola
09 – Mohan – Khanabadosh (Remix)
10 – Shankar Mahadevan – Man Ko Ati Bhavey (Remix)
11 – Feroz Khan – Tapkey Masti (Remix)