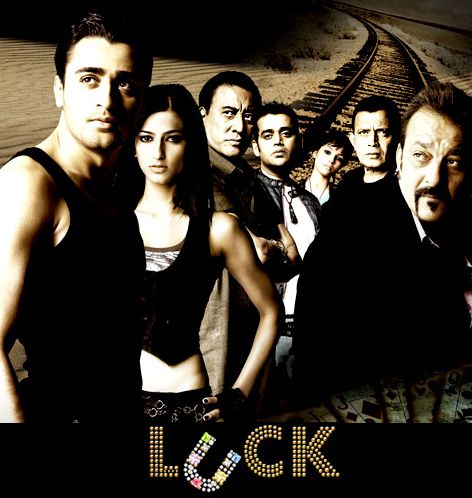 Luck is an upcoming action and adventurous Bollywood Movie releasing on 24 July 2009 and the movie stars Sanjay Dutt, Imran Khan as the main leads. The movie has been directed by Soham Shah and produced by Dhilin Mehta under two banner (Shri Ashtavinayak Cine Visions, Indian Films). The music and songs of Luck are composed by Sulaiman Merchant, Salim Merchant and the singers for the songs are Sukhwinder Singh, Satya Hinduja, Salim Merchant, Shruti Pathak etc. , The background sounds in the movie are given by Amar Mohile.
Luck Story
The film traced the lives of various characters and how their life changes with luck. Basically, the movie is about a boy named Ram (played by Imran Khan), who in the story is burdened by various problems of life who he has the capacity to overcome but his life (indeed his Luck) doesn't offer him the necessary opportunity to do so. Luckily, he Luck offers him a opportunity and he accepts it….. Read Full Story
Music Album of Luck
Genre…………….: Bollywood Music
Source Type……….: CD
Encoded By………..: Exact Audio Copy (Secure mode)
Audio Format………: MPEg 1 Layer 3 Lame3.98r
Audio Bitrate……..: 275 min 320 Kbps 2 Channels
Sampling Rate……..: 44.1 khz
Size……………..: 80.5 MB
The original album contains the Highest Quality songs of Luck and can be bought in the market.
List of Songs of Luck
1. Luck Aazma
2. Jee Le
3. Khudaya Ve
4. Laaga Le
5. Aazma (Luck is the Key)
6. Jee Le (Remix)
7. Khudaya Ve (Radio Mix)
8. Luck Aazma (Remix)
9. Khudaya Ve (Remix)
Download Luck Songs
As mentioned Isongz.com doesn't offer MP3 downloads.
There are many sites to download Luck songs free but most of them are illegal and not preferred.
To download the songs of Luck legally you can sign up to brand new site offered by BSNL at- http://bsnl.hungama.com/ (Songs.pk might be an illegal website and should not be used) which offers the latest hindi songs download at just Rs. 50 per month. The songs quality is amazing and 100% Legal.