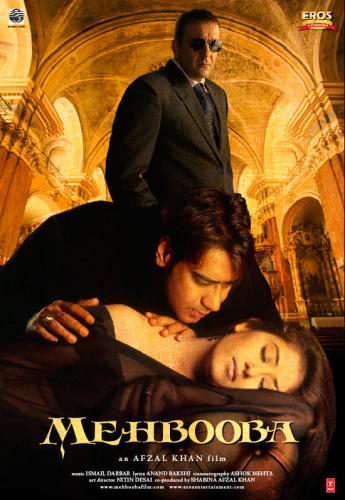 The name Mehbooba, itself gives you a nostalgic feeling of being set in the 90's. The story and the Bollywood movie as a whole has a 90's feel to it. Mehbooba songs have great tune and the movie is also good enough to be watched with Ajay Devgun and Sanjay Dutt on screen. The story has Sanjay Dutt playing the role of a casanova who likes to be with the girls. He gets the girl whom he desires at any cost, until he bumps into Manisha Koirala who refuses his attempt. He understands his wrong advance and apologises and asks her hand in marriage. Even though she refuses initially, finally they get engaged and share a happy life. Soon after the Casanova takes out his true color and says that he has married her just to sleep with her. Furious Manisha leaves him and advances to Budapest. There she later lures Sanjay's brother played by Ajay Devgun and they are about to get married. What will happen next?
Mehbooba Songs Review
Mehbooba songs bear witness to the return of Ismail Durbar, the man who gave the mesmerizing music of Hum Dil De Chuke Sanam. The album is a full stretch melody musical one. The title song is 'Tu Meri Mehbooba Maine Tera' sung by Udit Narayan which is a simple melody track with nothing so special or memorable. 'Yaar Tera Shukriya Pyar Tera Shukriya' is sung by Alka Yagnik and Udit Narayan and has a typical Laxmikant-Pyarelal essence in it and can be listened online at songs.pk. Almost all of the songs sometimes seem like it was being overseen by the legends, the matching is co-incidental or intentional, its for the directors to answer. The album would have been a great hit if it had been released the time the songs were made, but the wrong timed release of the wrong kind of music in a trendy time of the 20th century is a big mistake done by the directors.