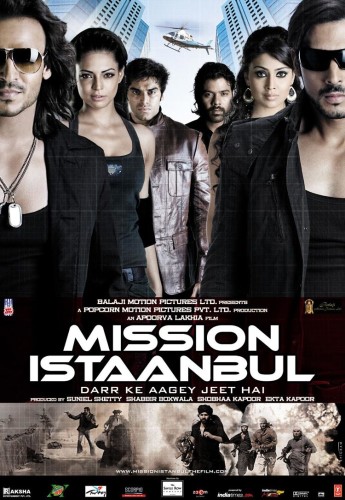 Terrorism is the issue faced by the world today and more and more movies are being released on this contemporary topic. The story has depictions similar to the real like Osama Bin Laden, George Bush and Al Jazeera channel. Mission Istaanbul fails on the story line when it shows the two heroes to have taken the whole group of terrorists which is too much filmy and unrealistic. Zayed Khan (Vikas) is a journalist and is approached by Suneil Shetty (Owais who runs the terrorist based channel Al Johara. Vikas denies from working with them. Owais is killed by the commando (Vivek Oberoi) and tellsVikas that if he doesn't follow the order, he too will have a fate like Owais. The movie is a full stretch thriller.
Reviewed Mission Istaanbul Songs
Mission Istanbul songs are a mix of western, Indian and Turkish tunes. The movie has 4 different composers and the basic idea behind bringing in different composers for one album is to make each song different from the other and the director is successful at this. The album begins with a song crooned by Kunal Ganjawala. 'World Hold On' has western music combined with English and Hindi lyrics. The remix version of the song makes a good club mix. 'Mission Mission' is a good track with thumping music and well included in the movie, but goes low on picturization. 'Nobody Like You' has a mix of English and hindi lyrics with a good crew or members having worked on the song. The video is also good and makes this the best song in the album. 'Yaar Mera Dildaara' is for those who downloaded from songs.pk for the Istanbul feel. This song is a kind of sufi mix and with a good feel.