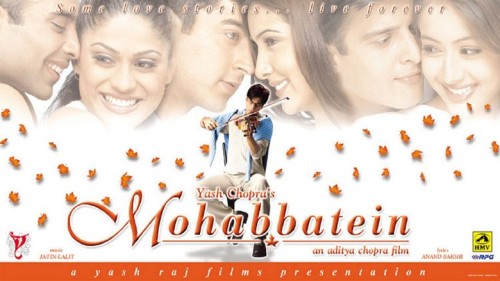 MOHABBATEIN has everything one expects from Yash Raj Films. A masala movie that portrays battle between discipline, fear and love. The set of the movie is in one of the most esteemed educational institutions — Gurukul. The institution is run by an iron man – an autocratic disciplinarian Narayan Shankar (Amitabh Bachchan), based on his basic rules – Discipline and Tradition. Every new batch is reminded that one once they have decided to enrol in Gurukul, the outside world is closed for them and slightest bending of rules will not be tolerated. Among many students, there are three students Uday Chopra, Jugal Hansraj and Jimmy Shergill who dare to fell in love in the strict environment, but no courage to break the gates and breathe in fresh open air. This is when an angel enters their life as a music teacher Raj Aryan (Shah Rukh Khan), who encourages them to listen to their heart and follow the path of love breaking all rules. The story line of the movie slowly becomes a battle between Narayan Shankar and Raj Aryan – thoughts they stand for. Two stubborn men with completely opposite principles stood against each other. Mohabbatein is different for conventional Bollywood movie with the main female lead Aishwarya dead and only appears in the film as memories and nostalgia.
Movie Information
Directed by Aditya Chopra
Songs by Jatin-Lalit
Produced by Yash Chopra
Starring Amitabh Bachchan, Shahrukh Khan, Uday Chopra, Jimmy Shergill, Kim Sharma, Aishwariya Rai
Distributed by Yash Raj Films
Release date(s) October 27, 2000
Language Hindi
Mohabbatein Songs Download
The music director Jatin-Lalit's has provided music of mixed variety. The music of the movie is catchy and full of rhythm. Numbers that stands out, notable among the rest being 'Humko Humise'and 'Aankhen Khuli Ho'. All songs in the movie are picturised on the three lovers, are excellent. Songs are available in Songs.pk for free download. Download your favorite numbers and enjoy the soft rhythms which are going to be remembered for long time.